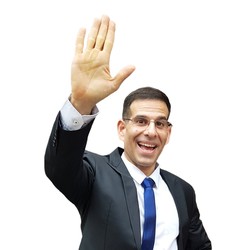 Rambo Levin

Bangkok, Bangkok
Life Coach, Performance Coach, Leadership Coach
Certified Coach Training Program (ACTP)
As a mindset and performance coach, I help people find clarity and purpose. We tackle procrastination, bad habits, and fears that hold you back. Planning your future and taking action to achieve it.
About Me
Following a massive personal transformation, I'm doing what I was meant to do on this planet; serve people to unleash the badass hidden within them. I inspire people to fulfill their true potential by crushing their limiting beliefs and lame excuses.
I believe that my past brought me to where I am today. I completed my Engineering degree in Israel and found out that I've climbed the wrong mountain. Left the shiny high-tech world and moved to Thailand in 2000.
Started my new life in a foreign country (paradise, yet foreign), where I achieved a Master in eLearning Methodology, and enjoyed over 15 years as a Qualified Educator and eLearning professional.
The real transformation started when I have discovered the world of coaching, my true calling. It has been a fantastic transformation journey where I've learned the life coaching profession from various inspiring experts from around the world.
After wasting a huge part of my life doing the wrong things, I feel it's my duty to help others better their life NOW.
Coach Rambo is always up to the challenge to awaken people to live the life they didn't dare to dream is possible. Success is just around the corner, and I can show you the way.
My motto: Change your Mindset - Change your life.
I'm looking forward to making an impact on your life too, you deserve it.
Reviews
3 reviews (5.0)
I needed help to re-evaluate my life's purpose and get clarity about the next phase of my life after a period of uncertainty. Rambo challenged me to step beyond my comfort zone. Gaining clarity and confidence allowed me to launch a new successful career.

Lucia Hargasova
Before working with Rambo, I was in limbo in executing my abilities towards being financially independent. Now I feel amazing at how I can face my fears to start working on my project. I am setting up a business with a partner to accomplish a lot in the future.

Duncan Kuria Muturi
I wasnt sure if I really needed a coach. Now I can say that it was the best choice I made in 2019. I am no more the person I used to be, I no more hide from myself. Rambo helped me realize that I really doubted myself and this brought a huge change in the way I see things.

Karma Deki