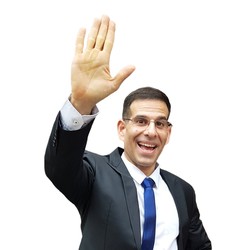 Rambo Levin

Bangkok, Bangkok
Life Coach, Leadership Coach, Performance Coach
ACC (Associate Certified Coach, ICF)
As a MENTAL FITNESS coach, I help people find clarity and purpose. We tackle procrastination, bad habits, and fears that hold you back. Planning your future and taking action to achieve it.
About Me
For years I pretended I figured out my life. I created an image of a tough and confident person. But the truth was that with doubts, fears, and lack of self-love I wasn't living to my full potential. Deep down I knew I was made for bigger things, but I didn't know how to overcome my insecurities. I was afraid people will see the real me. I settled with a mediocre life, I wasn't happy, I just survived. I asked myself over and over again "Is this it? Is this the best life can offer?"
After a long time of personal development and self-work, something started to change within me. I started to realize that I was the one who is holding me back.
So I let go of my engineering degree, moved to Thailand, and started a new life from scratch. I didn't know anyone, I couldn't speak the language, I had no job and no idea of what's going to happen, and I loved it.
I became a teacher and integrated my love for technology and teaching as an Instructional Designer. But something was still missing.
My journey got accelerated when I discovered the art of coaching. It became my true passion; help people find what is holding them back. Eliminate all the stories people tell themselves that create fears and doubts, just like I had. Avoid spending years of an unsatisfied, stuck, and disappointing life.
I started to expand. I displaced my insecurities, fears, limiting thoughts with a completely new and positive mindset. Now I'm courageous and getting closer to my full potential.
I'm on a mission to transform Padawan into Jedi, to unleash the inner warrior within you. I help people fight the inner dragon that holds them back from the life they deserve.

May the force be with you, always.
CHANGE YOUR MINDSET - CHANGE YOUR LIFE.
Rambo Levin
Reviews
4 reviews (5.0)
Coach Rambo has a unique, friendly, and straight forward approach that helped me to find clarity and to create an executable plan to achieve my goal. We worked together for a month, and during this time I was able to move forward faster and better than what I could have ever done on my own.

Sonia Natale de Luca
I needed help to re-evaluate my life's purpose and get clarity about the next phase of my life after a period of uncertainty. Rambo challenged me to step beyond my comfort zone. Gaining clarity and confidence allowed me to launch a new successful career.

Lucia Hargasova
Before working with Rambo, I was in limbo in executing my abilities towards being financially independent. Now I feel amazing at how I can face my fears to start working on my project. I am setting up a business with a partner to accomplish a lot in the future.

Duncan Kuria Muturi
I wasnt sure if I really needed a coach. Now I can say that it was the best choice I made in 2019. I am no more the person I used to be, I no more hide from myself. Rambo helped me realize that I really doubted myself and this brought a huge change in the way I see things.

Karma Deki