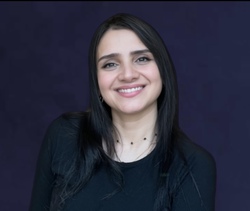 Rasha Al-Aloosi

Dubai, Dubai
Life Coach, Family Coach, Relationship Coach
BS, ICF Certified Life Coach. Specializing in Family and Relationship Coaching. Expertise in Treating PTSD, Trauma, and Phobias, NLP Master Practitioner.
I specialize in dealing with both adults and children who are feeling lost or unsatisfied in their relationships, careers, goals, or overall sense of life purpose.
About Me
I'm Rasha, and I'm here to be your dedicated life coach! My passion is helping people like you unleash their full potential and conquer their goals. I've been on my own journey, facing challenges that left me feeling stuck and uncertain about what's next.
But here's the exciting part: I turned things around and transformed my life. That's what drove me to study coaching—so I could learn the best tools and strategies to help others do the same. When I applied these insights to my own life, I saw amazing changes. My vision cleared up, my mindset improved, and I felt more positive and productive than ever. Now, I'm beyond excited to share what I've learned with you.
As your life coach, my main focus is helping you find your strengths, conquer challenges, reach your goals, and trust your decisions. I work with people of all ages and backgrounds. I've got a soft spot for helping kids too, guiding them through the tough parts of growing up.
I've spent three years coaching and earned a certification from ICF, so I've got the knowledge and skills to make positive changes happen in your life. I'm all about understanding you without judgment and crafting a plan that fits you perfectly.
Plus, I specialize in helping folks dealing with Post-Traumatic Stress Disorder (PTSD). And don't worry, I'll break down the recovery journey into simple, easy-to-follow steps.
No matter what's got you stuck, or if you're just looking to make life even better, I'm here with unwavering support to help you unlock all your awesome potential. And to make things easy, I'm fluent in both English and Arabic.
Let's team up, face your challenges, and uncover all the amazing things you're capable of. Ready to start? Get in touch today and let's begin this incredible journey together.
Reviews
5 reviews (5.0)
Rasha is a very compassionate, comforting, helpful, and overall great life coach. She helped me get through a lot and helped me become a better version of myself. I began to notice a very positive transformation in my personality after only a few sessions. I definitely recommend her.

Lara J
I recently had the privilege of working with Rasha as my life coach, and the experience was nothing short of transformative. Rasha's expertise, professionalism, and empathetic approach truly set her apart in the realm of life coaching. From the moment our sessions began, Rasha's warm and welcoming demeanor instantly put me at ease. Her ability to create a comfortable and non-judgmental space made it incredibly easy to open up about my challenges and aspirations. I felt heard and understood, which laid the foundation for our collaborative work. One of the standout qualities of Rasha's coaching is her impressive arsenal of tools and techniques to address a variety of problems. Each session was tailored to my unique needs and goals, and Rasha consistently provided me with practical and actionable strategies that I could implement immediately. Her insights were invaluable and illuminated new perspectives on the issues I was facing. Rasha's professionalism is truly commendable. She maintains a high level of integrity, punctuality, and organization throughout the coaching process. Her deep commitment to her clients' growth and development is evident in her thorough preparation for each session, her active listening skills, and her genuine investment in their progress. What struck me the most about Rasha was her genuine passion for helping others. Her dedication to empowering individuals to overcome challenges and unlock their potential is truly inspiring. Her guidance wasn't just about solving problems, but about fostering long-term personal growth and self-discovery. I would wholeheartedly recommend Rasha to anyone seeking a life coach who combines expertise, professionalism, and approachability in the most remarkable way. With Rasha's guidance, I've gained not only practical tools to navigate life's complexities, but also a renewed sense of confidence and direction. If you're ready to embark on a journey of self-improvement and empowerment, Rasha is the exceptional life coach to have by your side.

Mohammed
I had the pleasure of working with an amazing life coach recently, and I can't say enough good things about the incredible experience I had with them. From the very beginning, I knew I was in the hands of someone who was really smart, caring, and dedicated to helping me grow. This life coach is really good at listening and understanding what I'm going through. They made me feel safe and supported, and they always took the time to really understand me. It was so nice to have someone who cared about my thoughts and fears. One thing I really liked about this coach was how creative they were in helping me. They always had new and different ideas to help me overcome my problems. They made me think in new ways and encouraged me to believe in myself. With their help, I was able to make plans and reach my goals step by step. They also had a lot of wisdom and great ideas to share. They knew a lot about personal growth and were able to explain things in a way that was easy for me to understand. They gave me resources, recommended books, and gave me tools to help me even outside of our sessions. But most of all, they were just really friendly and nice to be around. They made me feel comfortable and supported. They always had a positive attitude and believed in me, which made me feel motivated and inspired. I highly recommend this life coach to anyone who wants to grow and change. They have so much knowledge, creativity, and care for their clients. If you want a life coach who will help you reach your full potential, guide you through challenges, and make your dreams come true, this is the person for you! Thank you to my amazing life coach for changing my life. I will always be grateful for the journey we went on together!

Raeda Ghazoul
I had coaching sessions with Rasha, and she's been great in supporting and helping me navigate my issues and finding the solutions, I felt heard and understood with Rasha, she has provided a safe and warm environment for me, that I was looking forward to our sessions every week. I highly recommend Rasha.

Sarah
My sessions with Rasha are always outstanding! She is an excellent listener and is always engaged and focused on what I say. She shows extreme empathy, and I always feel safe and comfortable talking to her. She employs a unique strategy of life coaching, whereby she gives me the opportunity to dig deep within myself to find strengths and potentials that I did not know I possessed. She is quite friendly and is a great person to talk to. I would highly recommend her to anyone seeking a thoughtful and compassionate life coach.

Mahmood Al Orphaly