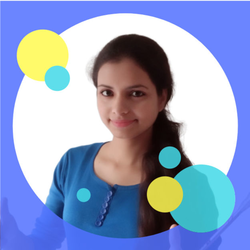 Sazia Queyam

Mumbai, Maharashtra
Health and Fitness Coach, Life Coach, Relationship Coach
Bachelor Of Physiotherapy, Cognitive Behavioral Therapist, Health and Wellness Coach
Are you stuck in your life, toxic relationship or poor health? Does taking actions and changing your reality seems hard and impossible? Experience of coaching more than 3500+ people.
About Me
Hi! I am a certified, trained and experienced Health, Lifestyle and Wellness Coach who's on a mission to help people who are struggling to adopt and maintain a healthy, balanced and stress-free lifestyle by habit and behavior change methodologies.
 I coach my clients in a way that aligns their body, mind and soul. The integrative holistic approach is sustainable in long run and can be customized according to the individual.
I believe in empowering people like you, to be their own expert. Let's begin your transformative journey with me as your personal coach.
My credentials-
Bachelor of Physiotherapy (RUHS)
Integrative Health and Wellness Coach (CIIS-Wellji)
GOQii Certified Lifestyle Coach (GOQii Inc.)
Certified Pilates Instructor
Certified Pre and Post Natal Fitness Instructor
Cognitive Behavioral Therapy Practitioner (Achology)
Creator of HolistiCrate™-Health Transformation Kit.
Experience- I have 4+ yrs experience of coaching more than 3000 clients and patients.
Have worked with various startups and companies as health consultant and expert advisor.
My patients/clients testimonials quote me as a strong proactive motivator, empathetic therapist and a creative problem-solver.
Reviews
2 reviews (5.0)
When I started coaching sessions with Sazia my cholesterol level reduced significantly and my weight also dropped 6 kgs. With help of Coach Sazia I was able to develop new habit of practicing yoga and meditation on a regular basis. I highly recommend Coach Sazia for health coaching.

Jareme
The sessions were insightful. She helped me improve my relationship with food. Also, my weight significantly reduced 10 kgs in 3 months. I feel more energetic and confident. I no longer have to diet or go to gym to manage my health. Coach Sazia helped me understand the importance of seeing health in a holistic way. Whenever i am stressed, i can now detach myself from the situation and make wise decisions. She was very patient and friendly which helped me confide my deepest issues. Her unique way of conversation makes me comfortable. Journey of 3 months with her brought enormous changes in me as a person. Thank you Coach Sazia. Wishing all the best.

Sofia, Dubai