3 Ways To Improve Your Conversion as a Small Business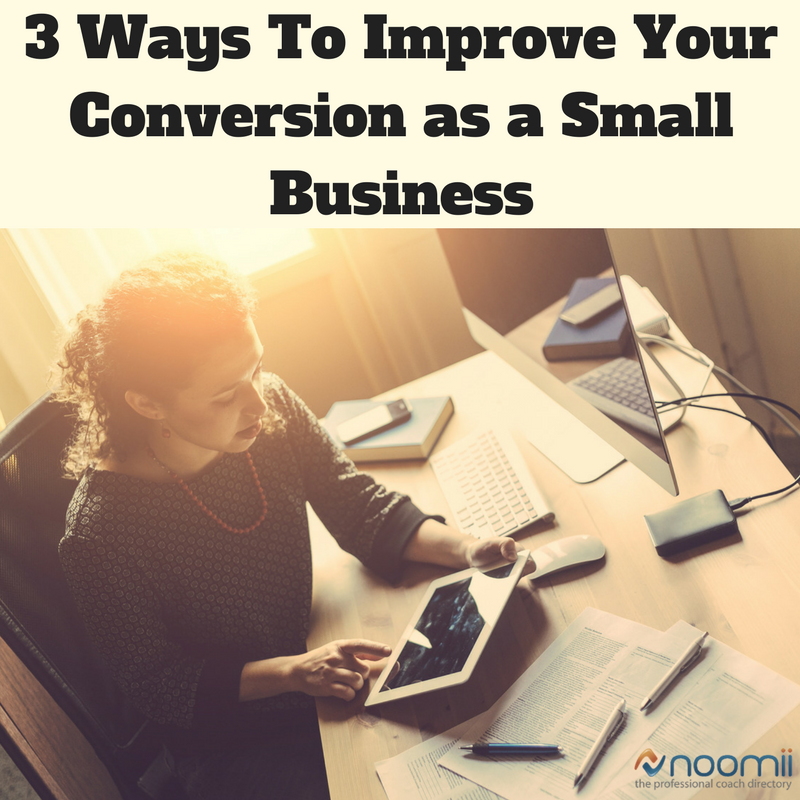 This is a guestpost written by Alma Causey. Want to contribute? Check out the 2017 publishing calendar.

Conversion is one of the primary targets associated with any marketing campaign. It represents a fraction of customers who take action after you successfully lure them to your website or convince them to buy your product. Our decades of experience as marketing experts has taught us that it is critical for businesses to employ the right approach when making lead generation and conversion strategies. We have interacted with hundreds of clients who have had a bad experience simply because they did not use the right methodology. Here are four tested ideas to improve your sales conversion rates.
Optimize your lead generation form
In order to capture the information of prospective clients who visit your website, you need to have a lead generation form that catches the visitor's attention and is easy to fill out. You want the text and language to be captivating and you want the call to action to be straightforward. Be clear about what you are offering them if they fill out the form.
The position of the lead generation form matters. People's interests drop as they scroll down a page. Placing the form above the webpage or the fold will maximize the number of eyeballs. The design of the form should be in such a way that it stands out from other elements on the webpage. Visitors should be in a position to find it at a glance. Place the form in containers to separate it from other items on the page. Use directional clues and arrows at the top of the form to direct people's attention to the form fields.
And when it comes to form fields, less is better. Most people aren't fans of filling out forms, so make it easy on them and only ask for the essentials - such as name and email address.
Here is an example of mechanical contractor company that understands and nails the idea perfectly.
Update your blog regularly
A blog helps your prospective clients better understand your style of coaching, the clients you work with and the challenges/goals you help them overcome/accomplish. It gives you a platform to share your expertise and engage your clients. You can educate them about your coaching products and the industry they are in. This way, you establish yourself as a valuable resource for clients in their times of need. In addition, you increase your search engine rankings. According to a recent survey, small businesses that embrace blogging have up to 97% higher chances of receiving links than those who do not.
However, the benefits associated with blogging can only materialize if you optimize the blog. Optimizing the blog can be in the form of updates. Experts recommend that you should update the blog at least two to three times per month. Come up with new and catchy contents to grab the attention of your readers. Focus more on educative content than commercial content. A blog that has outdated information will have a lower search engine ranking than that with fresh and quality content.
CoSchedule is one of the many companies that regularly update their blogs and their share per post proves why one should update their blog on regular basis.
Make your contact details conspicuous
Just like lead forms, your contact details should grab the attention of the visitors instantly. Use a contact form to make your phone number stand out on the page. Use different background colors that make the contact details visible at a glance. The links to the numbers must be reachable with a single click so that people don't fumble and turn to a competitor with a more simple contact link.
Place the contact at a strategic location on the website. Customers usually search for contact details at the top right side of the page. In this case, placing the contact next to the navigation bar might be better than linking it at the drop-down menu. Another popular point for contact details is the website's footer. It saves the visitors a lot of time searching the homepage for contact details.
Small businesses do not have to stretch themselves to the limits in order to increase the number of conversions. The tips discussed above will help them build a strong marketing foundation that leads to sales. As people who have been in the marketing industry for decades, we have seen customers grow their businesses from scratch to multi-million ventures using the tips discussed above.
About Alma Causey

Alma Causey is a blogger by choice. She loves to discover lives and world around her. She likes to share her discoveries, experiences and express herself through her blogs. Connect with Alma on Twitter.
Check out these related articles: