5 Key Steps to Building a Financially Successful Coaching Business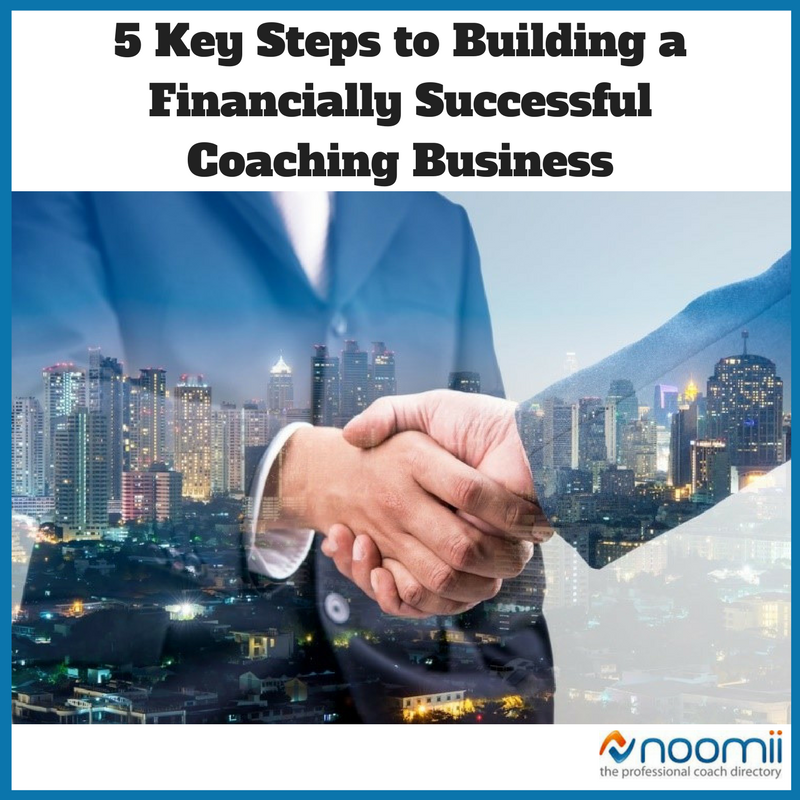 This is a guest post written by Steven McMeechan.
Building a financially successful business is one of the most challenging endeavors many people will ever undertake. Even without growing a new venture into a tremendously successful company or propelling you to billionaire status, simply starting and growing a business to the point where it can sustain you and your employees while providing valuably goods and services to clients is a remarkable feat. Many companies that do succeed in achieving such levels of financial sustainability, regardless of industry or respective place in a value chain, follow a similar path as outlined below.
1. Getting started
It's important for you as a new company founder to willingly pay the costs to have certain things done at inception and to make sure they're done right. Items such as legal work can cost far more to correct than to have done correctly at the outset. Depending on your industry, establishing early-on the right procedures for compliance or quality control can be similarly important. The right accounting tools must be put in place (software, etc.) early on. In this area, again, fixing problems is far more difficult and costly than putting the right systems in place from the start.
2. Hire the right people
This is yet a third item that is harder to correct if done wrong the first time. It is absolutely essential for new businesses to assemble the right team, even if this means using professional recruiting services that can come with a cost. Hiring the wrong people can make for major headaches later on; in some instances, even crippling a new business. You want to bring on board people who are good at their jobs – who will contribute to the efficient operations and future growth of your business.
At the same time, you want people who are open-minded and willing to learn and adapt. Granted, you don't want employees who are going to be yes-men or push-overs – there will be friction among team members and that's okay. It's important to ensure, though, that when questions inevitably rise of how to grow profitability or cut costs, you will be surrounded by people who will lend new and valuable perspectives to the discussion, and not just guard their area of operations.
This important step is not limited only to direct hiring, but applies also to strategic affiliations and partnerships with other businesses, non-profits, non-governmental organizations, or outside advisors. Extricating your business from the wrong partnerships can be every bit as messy as replacing an entrenched, toxic employee. It's just as important to avoid bad partnerships as to avoid bad hires.
3. Keep costs low
This is especially necessary during the early stages. Most new companies require a "bootstrapping" period, where founders and employees support themselves on savings or by living with friends or family. Until they can be supported by their new business full-time, many keep paid jobs on at least a part-time basis and work on their new venture during evenings and weekends.
However, it's important to note that the goal of minimizing expenses shouldn't change once revenue starts coming in. Keeping expenses low is the key to avoiding headaches and financing the future growth of a business. It's also the key to finding the financial freedom which most entrepreneurs seek. What you choose to do with that freedom is up to you. Some successful entrepreneurs explore new ideas and other possible ventures. Some simply retire and go live on a beach.
[If you do retire, though, don't assume that the business will run itself and keep putting money in your pocket. You can either sell it, expect to continue working in it regularly, or expect major problems in the future.]
4. Diversify
Once you've built a profitable base for your business, look for new avenues to for future growth. Explore avenues for vertical integration, including ways to control multiple stages of your production lines or service offerings. Seek opportunities to cross-sell new services or similar products. New methods of distribution can also be extremely valuable and have the potential to open up whole new markets.
5. Long-term stewardship
Once a business has been built and is sustaining itself, you and your executives must perform your fiduciary duty to stakeholders – these include creditors, employees, clients, and even yourselves –to ensure efficient operations. You must make sure that the company is running profitably, responsibly, and in a manner consistent with its overarching mission and vision.
You should also periodically look for activities the business is performing that aren't worthwhile. These functions may be less profitable and cause more headaches than they're worth; or they may be extremely profitable but not consistent with long term vision and worth giving up.
Contrary to popular opinion, starting and running a financially successful business is not just about making the most money possible – it's about making the right amount of money. The money generated by a business should be measured against the work required, and also against the amount of work that you and your partners or employees would aim to perform in pursuit of your goals.
In any business, you need to consider the workload involved and determine how you want to balance that with other areas of your life; to include family, physical health, mental- or spiritual-wellbeing. Ultimately, the measure of financial success in any entrepreneur's business (oddly enough) has nothing to do with a profit and loss statement or a balance sheet, but is instead linked to the satisfaction created by the work performed and the enjoyment you are able to derive from other areas of life, free from constant worry about money.
Put another way, a financial successful business is only a means to a rewarding life – not the ends. What you do with the money is more important than having it, and that thought should be foremost in your mind as you start thinking about forming a business and remain your primary concern through the growth of your business and into its ongoing administration or perhaps ultimately its sale or liquidation.
About Steve McMeechan

Steven McMeechan is a strategic marketing and communications specialist with over twenty years' experience in senior marketing management roles across a range of industries including Information Technology and Financial Services. He works for Capstone Financial Planning and lives in Melbourne Australia.
Check out these related articles: