5 Marketing Practices for Building a Healthy Referral Network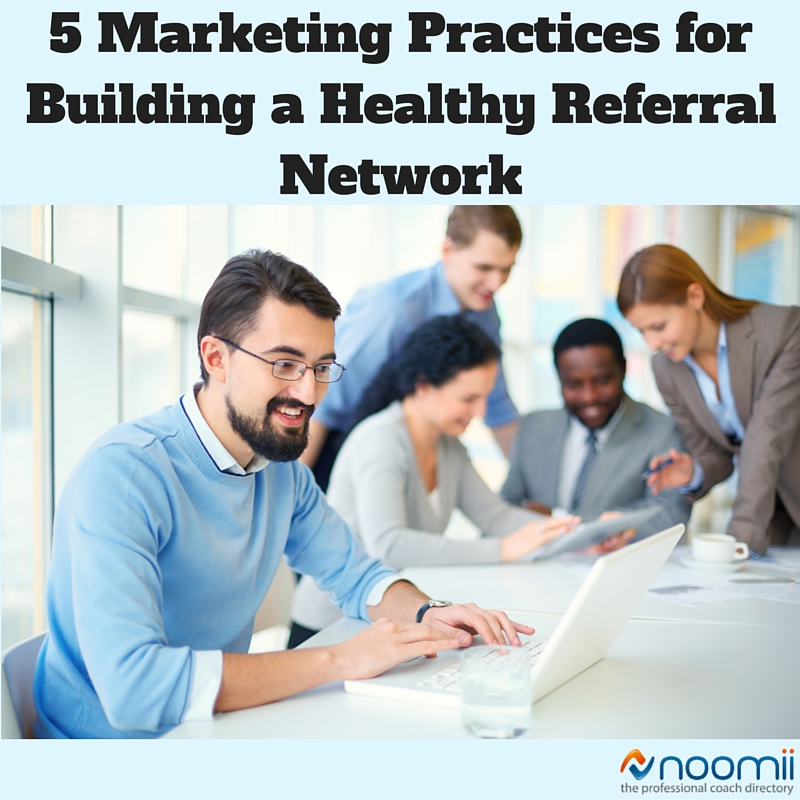 This is a guest post written by Terry Sidhu. Want to contribute? Check out the 2016 publishing calendar.
A strong referral network can propel your coaching business to the heights you've always envisioned. I may not be in my idea of "coaching nirvana" yet, but with a healthy referral network that is actively growing, I'm confident that it's where I'm headed.
When I started out, I was overwhelmed by the business side of coaching. Although I am confident in my coaching abilities, building the business from the ground up was a task I had clearly underestimated. I made rookie mistakes like placing adverts in local papers and paying for ineffective social media campaigns, both of which were set up for failure because I never spent the time developing a clear direction. Nevertheless, I learned quite a bit through this process and I'm here to share my top 5 successful marketing practices that really didn't cost me much and definitely helped me grow a healthy referral network.
1. Stick by your niche
I was so hungry to succeed and make a significant impact from the get-go that I tried marketing my services too broadly. However, when I realized that I was finding more success in relationship coaching, I was able to fine tune my target market and start growing. I focused all my attention on relationships, specifically young couples, and I grew from there. With just one focus, I was able to develop a perfect 'referral statement' so clients knew who they could recommend me to, based on the market I serve.
At the beginning I was afraid of being known as just a "Relationship Coach" and it resulted in the slow growth of my business. When I stopped being so stubborn, I embraced it and the business began to pick up pace. It actually opened up the doors to further segments within the relationship umbrella. I started off with young couples, moved into new relationships, which opened the door to an older demographic and over the last year I've branched out into the LBGTQ community, to which I'm incredibly thankful for. Today my business is heading toward a new and exciting, more lucrative direction as I'm able to open the door to a broader range of clients.
2. The client social
Coaching can be a vulnerable process for clients and I'm sure many of you reading this have clients that have felt isolated through this process. I build a very close bond with my clients and as a result, I started to put together a client social. A simple get together for clients at different stages of their programs to discuss and share their personal and coaching experiences, with other clients on my roster. You have to be careful with who you invite, but I liken the social to an undergraduate open day. Those currently going through a coaching program can meet with clients who have completed a program. It's a great way for existing clients to stay motivated, old clients to feel proud and for new clients to feel hope. I welcome friends and family members, but everything is cleared with all who are attending as you already know, client confidentiality must always be maintained and protected.
3. Seize every networking opportunity
I've been to weddings, birthdays and many social gatherings and managed to secure clients without even intending to. One of the questions you're likely to get asked at every social gathering by people who don't know you well, is, "what do you do?" Think about how many times you get asked this. It's the easiest way to pitch your business without being obtrusive about it. The words "I'm a Life Coach" spark an interest and if you genuinely have a passion for what you do, you'll welcome any opportunity to talk about it.
Naturally people will have follow up questions so it's important to really know what you're talking about, which is why developing a niche is a very good idea. I actually used to shy away from the topic because I used to be afraid of being stereotyped and having to deal with skeptics, but there is no room for doubt in an industry that revolves around resolving it.
So, suck it up and let yourself be known. If you develop a strong enough pitch you'll have people hanging off of every word. Here are the four principles I remind myself when preparing for a pitch: show passion, have confidence, be curious and stay honest. If you get it right, you will come across as authentic.
4. Be active on social media
I cannot stress enough how important social media is. A healthy online presence is key to securing clients and developing an online network. If I've handed out a business card or stumbled into someone's google search, then I need to ensure that any research on me or my business is relevant and recent. Try not to neglect your Twitter feed, your blog, your Facebook page or any other form of social media you've adopted.
A referral is only as good as your relevance and if you don't regularly post, then there is no reason to follow. I'll be the first one to admit that social media is a pain, but it is incredibly useful. I'm fortunate to have started my blog years before I became a coach, as now I have a wealth of content to recycle across my other social media platforms.
Furthermore, social media is a great way to interact with clients and peers alike. Get into debates, retweet, publicly share and Instagram to your hearts content. As long as your activity remains relevant, your business will appear active.
To give you an example of how great social media can be, I tweeted a blog post I had written over a year ago, it was about preparation. That tweet got retweeted by a follower of mine, which then got retweeted by one of their followers, who then followed me on twitter. I naturally followed back and direct messaged my new follower to say "thanks"to this Australian expat living in Thailand. Before I knew it, we planned a small gathering of expats living in Chiang Mai, to meet up during my trip to Thailand earlier this year. I may not have secured a direct client, but I expanded my network to possible future opportunities and all that was a result of one simple tweet.
5. Follow your market
I was once asked to host at a small wedding event which wasn't a very lucrative opportunity but as a relationship coach, it was a great way to learn more about my target market. There were vendors and exhibitors who deal with my type of client on a daily basis and talking to them made me aware of current trends. I was intrigued to find out how much more men were getting involved with wedding preparations and the rapid rise of same-sex marriages. I was able to network and expand my reach by connecting with an industry centered around relationships. I have services that cater to newlyweds so it became a wonderful pairing.
I can't stress how important it is to know and understand your market well and this same advice applies to online marketing too. There are so many opportunities online and the easiest way to find them, is to follow your market; be present on the sites they visit. By means of an advertisement or a guest posting, I've even gone as far as offering free relationship advice on Reddit, simply by responding to some trending posts. Be in the face of your target market, if you're phone isn't ringing and your email's aren't frequent then it's probably because they can't find you.
I hope you found this article useful and please do share any other tips you have for building a healthy referral network in the comments below.
About Terry Sidhu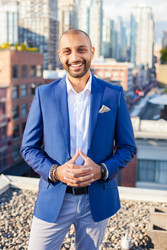 Terry Sidhu is a relationship, life and family coach with an advanced level diploma in psychology, based out of Vancouver, BC. You can connect with Terry through Noomii, his Website, Blog, Facebook and Twitter.
Check out these related articles: