7 Creative Ways of Using Social Media for Your Coaching Business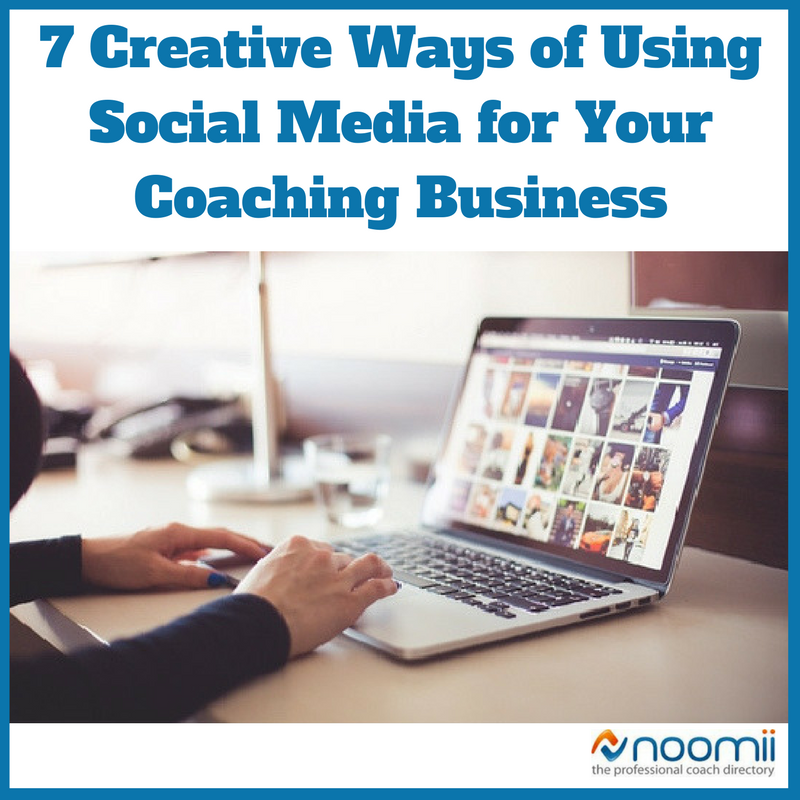 This is a guest post written by David Schneider. Want to contribute? Check out the 2017 publishing calendar.
What drives the most effective social media campaigns? Creativity and great content. If you're running out of ideas on what to do in your social media channels, here are some fun and creative ways to create lasting connections with your audience.
Engage your community in meaningful interactions through live video streaming
Facebook CEO Mark Zuckerberg says he is on a mission to strengthen the channel's community. His aim is to add mentors and people outside the users' circles, who care about them and can provide a new source of support and inspiration.
From a business perspective, this is an opportune moment to humanize your brand and establish an emotional connection. With live video streaming, production value is raw and tends to be less professional, thus offering a way to authentically connect with your audiences. Not to mention native videos have higher organic reach than any other social media content.
Give your audience an opportunity to engage with someone they may not otherwise have the opportunity to. Feature experts, whether it's you, a colleague, a former client or an industry influencers, who can provide tutorials or product demos, give advice, tips or even share personal success stories.
Conduct an AMA (ask me anything) session, to answer any question or react to comments in real time. This is also your opportunity to build your mailing list. Ask your viewers to leave their email addresses in the comment section and you can enter the information in your database afterwards.
Plus, if their questions were not addressed during your live stream, you can always get back to them and reply personally at a later time. Knowing that you care about their concerns or comments assures your audience that you are listening. It's a great way to help you improve your customer service strategy, build your brand's following and retain existing customers, too.
Choose the platform depending on your follower base. If you have more followers on Twitter, use Periscope. If you're big on Facebook or Instagram, use Facebook Live and Instagram Live Stories. Save the videos for replay and download them to repurpose in other platforms like your blog or YouTube channel.
To drive more engagement, here are other tips:
Announce the live event through your other social media accounts at least a week before broadcast.
Make it a weekly live broadcast the same way you would do a podcast.
Add your call to action (CTA) in a small unobtrusive banner that appears at the bottom of the screen. Insert the expert's bio or your conversion landing page where people can learn more about your interests, offerings and unique value proposition.
You may not be into DIY crafts or holiday party planning, but try watching Martha Stewart's streams and see how she is killing it on Facebook Live. Their most successful episodes feature guests, such as celebrity chefs who do special shows. Martha also talks directly to questioners through her iPad.
Ruth Feldman, SVP brand development at Martha Stewart Living, says among the positive things about Facebook Live is that it's very inexpensive to produce, requires no editing and gives immediate one-on-one gratification for both the viewer and for the brand.

Most importantly, it's the quickest way to see results and build their business, according to Feldman, saying they reached six million people with their videos in just over five months.
Collaborate with influencers and co-create a product campaign or contest on Instagram
The greatest thing about Instagram is it has the highest engagement rate out of all social media networks. It's partly attributed to it not being dominated by huge corporations but by individuals who are easily relatable in terms of personal branding.
If you are a small business who's a newbie on Instagram, partnering with influencers is the best way to gain traction. Search for the top influencers in your niche or industry and list all those are best aligned with what you're offering. Look them up on Instagram and check the lifestyle they are promoting.
See if they have an engaged audience. It doesn't only mean they have significant number of followers, but also they're getting meaningful interactions and conversations. Check how many likes they get and look at what kinds of comments they are receiving and giving.
Prepare a collaboration plan before reaching out to your target influencers. Let them know you're interested in working with them via email. Ask for their feedback to let them know you value their ideas as well.
Your Instagram campaign or contest must contain the following elements:
Theme - Is it a Like-to-Win, Comment-to-Win, Share-to-Win, Follow-to-Win contest? Or all of those elements in a photo challenge?
Rules - Instagram does not have many rules when it comes to promotions or contests. You just have to do two things: First, acknowledge that the promotion is not administered, endorsed or sponsored by Instagram; second, do not tag content inaccurately or encourage users to inaccurately tag content.

If you have a few rules in your contest, it's best to lay them over an image, include them in the caption of your Instagram image, or include a link in your bio.
Branded hashtag - It contains your brand name, your products or a specific campaign. Since they can easily be tied back to your company, using branded hashtags allows easy monitoring and measurement of success.
Prize - While we all can't afford to give away an all-expense paid vacation for a family of four, there are more reasonable prize ideas based on holidays and seasons. Or you can opt to give out samples of your product or items bearing your logo.
Tell a great story on Snapchat
Snapchat is more about branding, storytelling and engaging an audience than grabbing a quick sale. It used to be more popular with teens and preteens, but since becoming more a mainstream channel, Snapchat has attracted a more mature audience.
Snapchat Story is a great platform for businesses, large or small, to create a compelling and creative narrative. If you don't think your product or service is that exciting, focus on other aspects of your organization, such as the company culture or the lives of your employees.
Cisco, for example, took to Snapchat to turn its employees into brand ambassadors. Its Snapchat account, @wearecisco, showcases the company's human side by giving its followers a backstage pass, or a behind-the-scenes look, at how its employees go about in a day's work.
Cisco's Snapchat series, Day in the Life of an Account Manager, for example, chronicles the workday of an account manager as he goes on his appointments. The star of the story used emojis, jokes and lenses that provided a lighter and fun perspective on the seemingly mundane task.
Snapchat is a human-centric and playful platform. By being more transparent with its followers, Cisco's Snapchat Story becomes a great inspiration for B2B marketers who get intimidated by social media and are not certain what subject to tackle. It only shows that the content you post can be just fun and doesn't always have to be marketing driven.
It does not require tons of creative chops to get your message across. Marketers can either create original or repurpose content from other channels. Be it breaking down a recent blog post, giving advice to your followers or using the behind-the-scenes approach to show how your organization does a common process, you create authentic and engaging content.
Create local guides with Pinterest
Pinterest is the most underrated catalyst for online shopping among all social media networks. If you are geared into e-commerce and not using Pinterest yet, it's not too late to start.
55% of Pinterest users say they use it for shopping rather than for social media networking. It's a unique mobile-first platform where people pivot from browsing for ideas about where to eat, what to wear or how to decorate their homes, to shopping; and back again. It draws much quicker conversions, brought on largely by the power of visuals.
With all those elements, athletic brand Lululemon brings a unique way to also leverage the power of visuals in creating a lasting connection in the community. With its local guide boards, Lululemon highlights their favorite places to sweat (since they're known for their yoga and fitness apparel), eat, drink and spend days in.
Lululemon's engaged its local team in handpicking stunning images for each board, helping local communities, tourists and new residents get a feel of what their local community is like. The brand's local guide for Seattle alone has more than 400,000 followers.
Use Pinterest as a search engine for retrieving information
Pinterest's Rich Pins automatically show metadata, such as article and product information. As such, it's a great medium to drive traffic to your website.
About.com (now dotdash.com) started using Rich Pins in 2015, adding extra details from their site to their Pins. In just the first week, the website reported a 40% increase in traffic generated from Pinterest and went on to continue to see a 70% increase in referral traffic year-over-year.
About.com employs a full-time Pinterest editor to ensure that content and images on their site are fully Pinterest-optimized. It also encourages its expert writers to consider descriptions and photos (for pinning) when creating new content.
According to Matthew Knell, VP of Social Media and Platform Partnership of About.com, using Rich Pins provided them an opportunity to really explain why someone should read an interesting article or useful tip. Since implementation, About.com have been enjoying, not only an increase in website traffic, but a new leash on its readership on a variety of subjects.
Make a video introduction of your business and post it on YouTube
As a business, you know that being clear about your unique value proposition is crucial. And what a better way to show that by making a video introduction of your business and posting it on your YouTube and other social media channels.
It's a simple step and yet, not a lot of small businesses do it because they get intimidated with video cameras and think of the production expense. The truth is, producing your own video introduction costs next to nothing.
All you need is your smartphone, an assistant or two, the YouTube Director app. Follow the step-by-step guide and your video will be done in literally less than an hour. Upload your video directly to YouTube from the app - no video editing experience required. Plus, it can guide you in recording other video ads and testimonials.
Don't forget to create click-worthy YouTube thumbnails consistent with your branding to make things instantly recognizable for your visitors. Add a kickass description, too, to increase your search rankings and promote your video in your other social media channels as well.
Build your content series (shorts) with Instagram Stories
Along with great content, it's your chance to be one of the early adopters in using social media for content distribution and accessible entertainment. This is a new and risky concept, but shows a lot of potential in creating a loyal following.
An Australian-made scripted sci-fi series The Out There launched exclusively on Instagram this year. Since Instagram constrains videos to one minute, each episode in the series was crafted to run for 60 seconds or less. The first season has 13 episodes, so you can watch it entirely in less than 20 minutes.
The Out There has all the elements that make video on social media very appealing: bite-sized content, engaging premise and accessibility to all devices.
Hannah Lehmann, creator and producer of the short, says that she looked to social media when thinking about how to best execute the story on a small budget and in an already flooded market. Lehmann added that with attention spans lowering but the need for great storytelling rising, ultra-short-form fictions are a go-to, especially with the younger audience.
Lehmann hopes to reach more audience by entering it in festivals, and monetizing the series by working with a production company or an online broadcaster.
Conclusion
Social media is all about making a connection. It is only when your brand message resonates with your audience that they will start paying attention. And building relationships and engaging in something productive, while having some fun doing it, is the most rewarding experience.
About David Schneider
David Schneider is the Content Director at NinjaOutreach an all in one Influencer Outreach software for marketers. He blogs about business and you can also find him on twitter @ninjaoutreach. (Update - Dave no longer runs these websites, but can be found at lesschurn.io and daveschneider.me)
Check out these related articles: