Building Content like a Pro: 4 Tips For Web Content that Ranks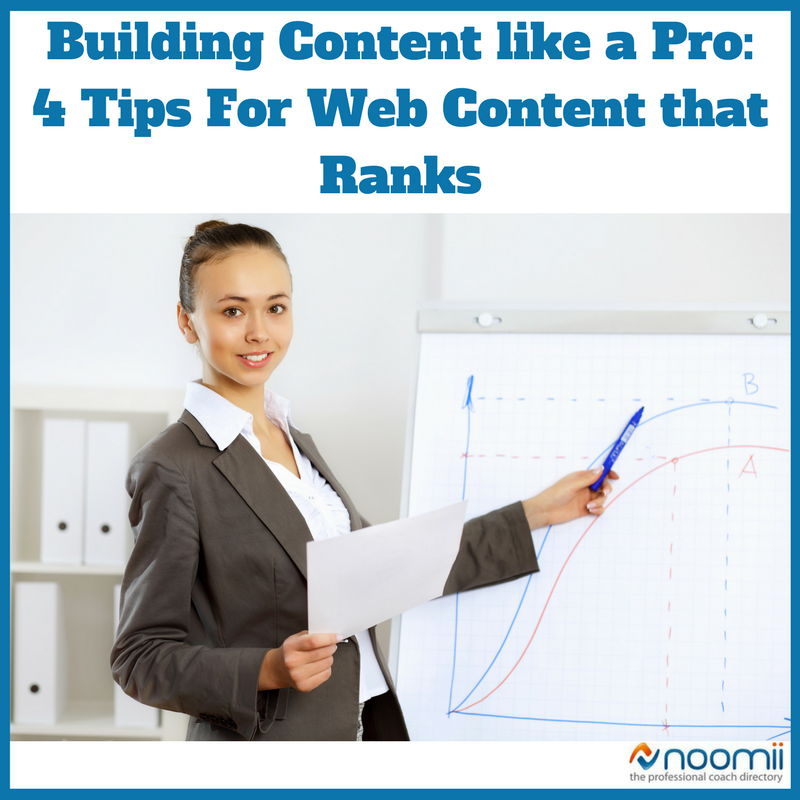 This is a guest post written by Nicole Stelmar. Want to contribute? Check out the 2017 publishing calendar.
When ranking sites in search results, Google takes into consideration many different aspects of a website – one of which is content. In order to improve the ranking of your coaching business website, it's essential that you focus on putting out quality content that addresses your users' needs. Business owners often have to wear many hats, so when you are wearing the "content creator" hat, use these tips for creating content that will help improve your website's ranking.
Tip 1: Longer content
Studies show that pages with longer content rank higher on average than their brief counterparts. Aim to craete content ranging in the 1800+ word count area. However, be careful to not just add filler content to reach that word count. It is still better to be under your word count goal and have high-quality content that addresses the reader's needs.
Many studies show that longer content pages regularly rank higher in Google searches. There are several theories on why this is:
Longer content creates more shares

Google has a preprogrammed preference for longer articles

The longer the article the easier it is for Google to gain an understanding of your content's specific topic

Longer content indicates a greater chance of quality information. It might demonstrate that the site owner cares about the quality of the content
It's hard to say exactly what the specific reason is that longer content pages regularly rank higher, but when you look at the research it becomes apparent that long-form content is essential for positive SEO results.
One thing to keep in mind as you strive for this long-form content is that you do not want to sacrifice usability for your readers. Anchor links (links on a page that brings you to a specific place on that page) are a great way to help people quickly navigate your new in-depth content.
Not sure what an anchor link is? Here's a great example (shown below) of them in use on a small finance company's website. It's important to note that Google has gone on the record and stated that your website should strive to be like Wikipedia. Notice the similarity?
Tip #2: Original data
It is essential that your content is original and genuinely relevant to the topic you are addressing. Consider creative ways you can use your proprietary data or put together a case study. Your content is one of the most influential factors search engines have when deciding where to rank your website and so the more original and relevant it is to your topic, the higher you will rank. You want your content to be high quality so that other trusted sites will link to your information as an original source. This is what's known as a backlink. The more sites that are linking to your content, the higher the search engines will value your content, and again, the higher your page will rank.
Wondering what exactly is a backlink? It is a link found within the text of an article that links to another, adding additional relevant resources for the reader. Here are some examples: This is a backlink. This is a backlink. And this is also a backlink.
All other things being equal, if you have more relevant backlinks to your articles than your competitors then you rank higher than they will. Engaging, high-quality original content is exactly what makes other webmasters and bloggers want to link to your site.
Tip #3: Interactive content
You want to add interactive content to your toolbox because it greatly increases the potential for engagement with your users. Think about adding quizzes, assessments, opinion polls, puzzles, etc. to get your users truly engaged with your content!
Interactive content increases engagement by allowing users to see themselves as an active part of your brand's experience instead of just as a passive spectator. This helps to deepen the perceived connection and enhance the user's experience.
Your dwell time is tracked by timing the amount of time between when a user clicks on your link from the SERP (search engine results page) until the user returns back to that SERP. The longer the time in between, the better it is for your rankings!
Search engines are designed to reasonably assume that the longer a user spends on your site the more likely they are to have found the information to be relevant and useful. After all, isn't that the number one goal of any search engine, to quickly enable users to seek the answers they are after in a reliable way?
Tip #4: Include Images
Have you ever heard the saying, "A picture is worth a 1000 words?" Well, that couldn't be truer when creating web content. According to Jeff Bullas, "Articles with images get 94% more total views than articles without images." 94% is more than a significant difference, it is everything when it comes to getting your site ranked, noticed and shared!
Additionally, in the aforementioned article, Nielsen's data showed that users spent 10% more time looking at pictures of people on a page than they did reading the biographical content associated with the pictures. The fact that users are spending more time on pictures than on the content, even though the content is the vast majority of the page, reveals just how important images are in enhancing the user experience.
But much like the word content, it needs to be quality images and not just filler. Images that have nothing to do with an article's content will just be ignored, or worse, they stand the chance of being annoying to your potential customers and may cause them to leave your page in search of a competitor.
Even if you're in a "boring" industry or not selling physical products, it's still possible to integrate photos within your marketing mix. One way to do this is by highlighting the people that are behind your company on an About Us page, giving potential customers the opportunity to learn and connect with you before committing to your products or services:
Just be certain when you are including an image that it enhances your ideas, helps to prove a point, or illustrates/demonstrates your content's concepts. If your images do this than they are sure to help get more eyes on your content!
Now that you understand a little bit about how a search engine goes about ranking pages, you can tailor your content and site to be more effective at scoring those coveted top ranking positions! Taking the time to provide ample original quality content with meaningful images will increase your users' dwell time average and in turn, increase your rankings. Good luck!
About Nicole Stelmar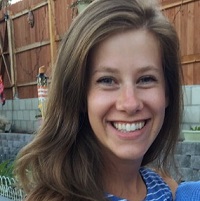 Nicole Stelmar is a managing editor for 365 Business Tips, a new website focused on providing marketing tips and tricks for businesses of all sizes. Nicole specializes in helping small businesses use digital marketing and SEO to grow their digital presence.
Check out these related articles: