Webinar Recap: Career Coaches: Learn How to Double (or Triple) Your Income and Have Your Clients Rave About You!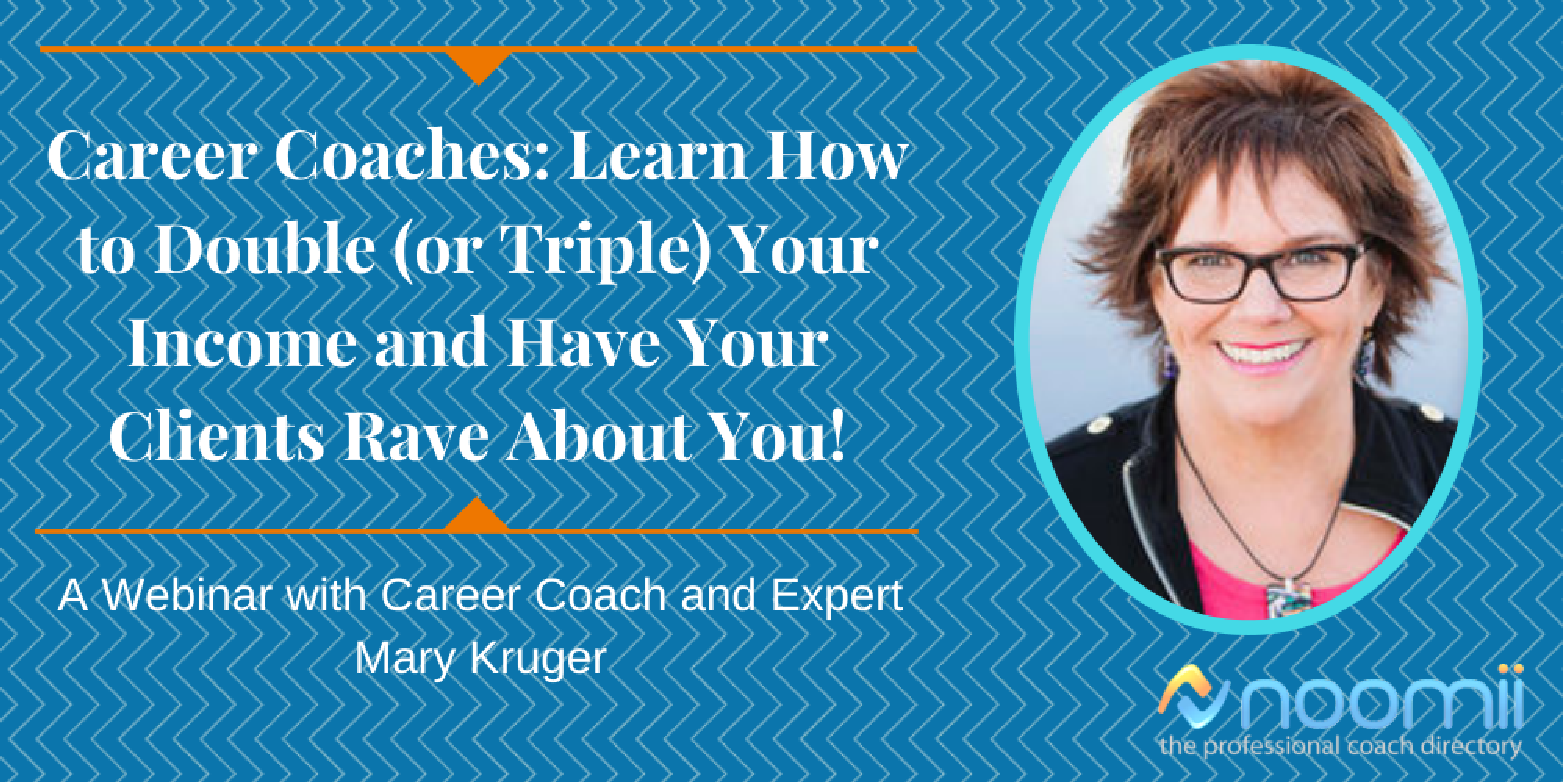 If you missed Wednesday's webinar "Career Coaches: Learn How to Double (or Triple) Your Income and Have Your Clients Rave About You!" don't worry, we have got you covered!
In this webinar, certified career coach and expert Mary Kruger taught participants simple strategies to get their clients in the door for interviews and beat out the competition, job search secrets, including how to tap into the hidden job market, up-to-date techniques to get their clients the job of their dreams faster than ever and double (or even triple) their income by extending client engagements.
"Do you ever feel like you are on a rollercoaster ride with your clients?" Mary asks. "You have them focused on the work they want, but now they want to move forward with the job search work and you aren't really sure what to do."
There are two phases of helping career coaching clients. The inner work, the career exploration phase, which is helping clients get clear on what they want (their passion, values, interests, etc). Then there is the outer work, the job search, which is helping your clients with the how-to of job search.
"Because, let's face it, that's really what client's ultimately want - to know how to look for work and they want to get the job."
How often do you get through phase one with your clients and they start asking about phase two, the job search?
How often do your client's ask - What do I find a job like _____? Can you help me with my resume? Can you help me with my LinkedIn profile? How do I prepare for my job interview? Or maybe they got the job, but they need some help with salary negotiations.
These phase two skills of helping your client get the job are more consultant-based skills, but what if you had all the answers and had a simple and proven job search system to help your clients get their dream job?
The Complete Job Search Toolkit will allow you to:
Differentiate yourself from other career coaches with ready made job search tools

Have a simple and proven job search system to help your clients get their dream job

Extend your coaching relationship through phase two with your new job search skill set

Get glowing testimonials that lead to more referrals
The Complete Job Search Toolkit comes with:
7 module job search course

Trainer's Guide

4 months of ongoing support with a private online group

Customizable pre-made templates, scripts, worksheets, etc. that you can add your own company logo to

2-hour kickoff call with direct access to Mary for questions
Watch the webinar below to learn about Mary's actionable job search tips, which you can use with your clients right away!
If you sign up by Friday, April 21 at Midnight PST, you will get the following bonuses:
4 group coaching and training calls with me over the first 2 months - access to my 20+ years expertise in job search, coaching and training

2 additional modules: Negotiating Top Dollar Salaries and Using LinkedIn as Your Secret Job Search Weapon

Personal Strategy call with me on how to implement the program into your coaching so you'll be assured success.
Click here to purchase Mary's Complete Job Search Toolkit
If you have questions or want more information, you can contact Mary Kruger via email at: mary@mlkcoaching.com.
About Mary Kruger
Mary Kruger works with coaches like you so you can support your overwhelmed clients stuck in their career, by helping them rise above the competition, gain laser focus, get the job they truly want and the money they deserve. With over 20 years of coaching, consulting and training experience, Mary has helped more than 1,200 people overcome the isolation, frustration and discouragement job search can bring.