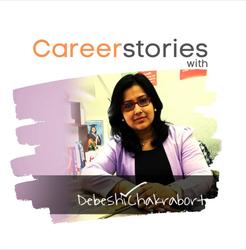 Debeshi Chakraborty

Gurgaon, Haryana
Career Coach, Life Coach, Executive Coach
MS, ICF - ACC ,National Award-2020,Landmark ILP Coach(2015-17), Commonwealth Scholar- London-2009 Gold Medalist
I coach professionals with more than 15years of experience in Job Interview Preparation. Co-creating career milestones stories for Linkedin, website, Awards,3-page CV into a 30-sec career story pitch.
About Me
#Who is your Coach?
I am Debeshi Chakraborty ( Day-way-she )
An ordinary girl from Kolkata-India, who met Mother Teresa during Gulf War and dreamt of changing the world!
After 20 years, I am a Gold medalist-Designer, Commonwealth Scholar- London, Ex-Fortune 500, Leadership Coach at Landmark Education, Founder of Dezinecareers a women-led organization and India's first CAREER-STORY COACH.
#How do I coach?
I designed my own second career unlinked to my educational background being the founder of Dezinecareers Global Private Ltd in 2016 in Gurgaon-India.
In these 5+ years, I have developed this ©Career Story method and trained 12,000+ professionals including those from fortune 500 at CXO, CHRO level from Pepsico, Seimens, E&Y, Givadaun, Adidas,KPMG Upgrad, Digital Vidya, ChannelPlay, etc.
#How did it start & how it's going?
In 2020 I won a national Level award in Education #Herrising Award 2020 by #JobsForHer; India's Largest Online Career Platform for Women.
My mission is #grow2give to design 90, 00,000 careers by 2025
#Whom do I coach?
My clients are people with more than 15+ years of experience & aspiring C-Suite Executives from India, US. They are domain experts who need help in making career milestones into stories for jobs interview, promotions, awards, media presence.
#How can we work?
A. Interview Preparation
- Preparing career story pitch for Leadership Level Interview preparation, Mock interviews
- Professional CV/Resume Evaluation & LinkedIn Profile Optimization
- Creating career stories for awards, LinkedIn summary, website.
B. Personal Branding: Design your inner Hero :
- Build your executive presence.
- Pitch and win Clients.
- Create a distinct Professional Identity for Career Progression
#Everything I do have been first tested on myself.I invest 60-90 mins for my own learning every day since 2016. My mentors are from ICF, Gallups, Landmark.
My second career, my awards, my global interviews have laid the foundation for my clients to win
Reviews
7 reviews (5.0)
It was in early 2021 that I felt the need to work on being an authentic communicator. I had a vague idea of my pain points and wanted a trainer who can work with me in developing a customized program addressing my specific requirements. This is when I approached Ms Debeshi Chakraborty. Debeshi is a really good trainer and her suggestions helped me tremendously in articulating my thought process effectively in different set ups. Her various frameworks and scientific approach towards effective communication was very helpful to me. I can vouch for her expertise on this subject.

Abhinav Pathak
Debeshi's session has made me figure out the assumptions that had about few things that I had made up in my mind.Now,that I have realised it ,this and has helped me to plan things accordingly and move ahead. Thank you Debeshi :)

Kavitha PS
The life coaching sessions with Debeshi Chakraborty were fabulous . She made me rethink and come with answers to queries which I wanted to be solved . I would highly recommend her to anyone who has hit a roadblock and wants to better themselves. Thanks Debeshi for the help . Best wishes Asha

Asha Nanjundaiah
I would personally recommend Ms Debeshi Chakraborty as an articulated Leadership Coach who knows her job well. She curates courses based on individual persona and sees to it that we bring our inner hero out and outperform in our lives. I would personally thank Ms Chakraborty for being my coach and helping me to groom my personality and develop a winners mindset.

Vighnesh Vemperala
Debeshi is an expert coach and mentor. She listens powerfully to bring out your strengths and development areas clearly. She also has the ability to zoom in and zoom out so she focuses both on task-at-hand and the direction of life. In my coaching calls with her I always leave energised, with clarity of thought and focus to get the results I want. If you want a life/career coach that will give you wings, I highly recommend Debeshi !

Vikram Mishra
Debeshi is a wonderful coach and a great human being. She worked with me to help frame by professional experience in a great context, which made me feel good about my work and myself. This enabled me to be more confident and sharper about my approach towards professional interactions

Vineet
I would like to rate my experience with Debeshi as very positive. I enrolled in two corporate training sessions which were led by Debeshi. I must admit that Debeshi has a clear understanding of the requirements of the corporate world and her training programmes are well defined to cater to the current needs. Debeshi is always well prepared and her training programmes are tailor-made. I think this is where she has an edge. I will definitely recommend Debeshi for any corporate training programmes especially for mid to senior-level management teams.

Saurabh Khanna