How to Build Your Brand and Get More Leads Writing Online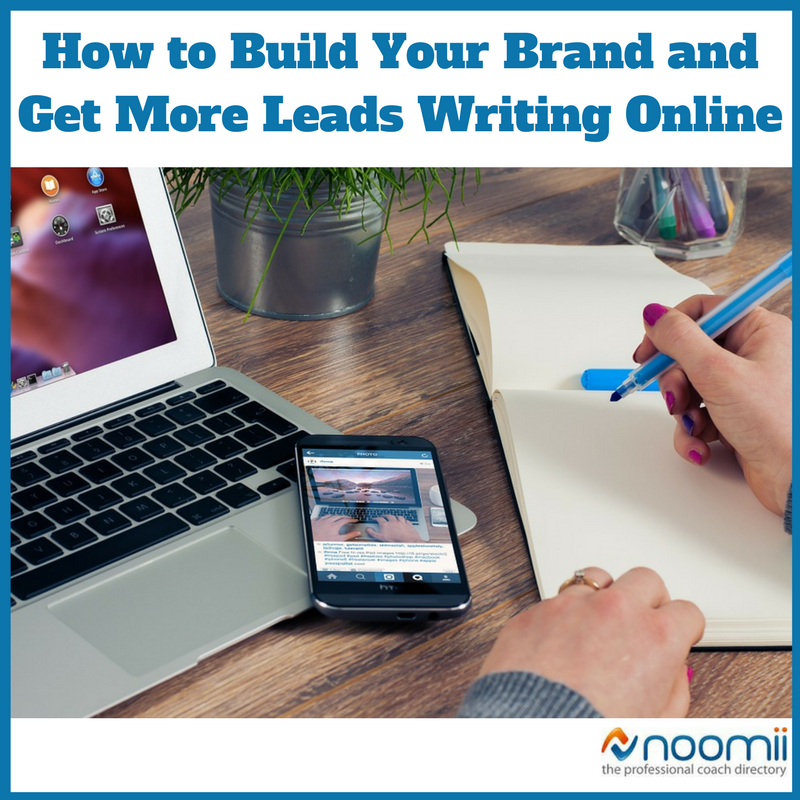 This is a guest post by Mike Hanski. Want to contribute? Check out the 2017 publishing calendar.
Without a respected and recognized brand, you can't get leads. Without leads, you can't get clients. Without clients, you can't earn any money!
So, how do you build your brand and get leads?
One of the most effective and economical options is to share content online.
Why write?
There are virtually limitless ways to advertise and promote your brand. However, writing about your business and sharing your expertise online — a concept commonly referred to as content marketing — is viewed as the most effective by many. As an added bonus, all content marketing costs you is your time.
Consider the following stats:
Ready to give content marketing a try? Start with these seven strategies.
1. Start a blog
A blog does two things.
First, well-written content proves credibility and authority. As a coach, it is imperative that your prospective clients trust you and recognize your expertise.
Second, a blog can increase leads. If content is optimized for search, it will quickly start to draw the attention of your ideal clients. With each article you add to your blog, it's one more chance to appear in search results for topics your prospective clients are interested in.
To make your blogging efforts as effective as possible, you'll need to write two different types of articles.
Niche content
What topics do you have the most experience with? What can you explain in the greatest detail? Identify your niche and stick with it.
It is better to share in-depth expertise from your core competency than write generically about everything anyone might want to know.
For example, rather than write about every weight loss method available, focus in on topics like weight loss for women or better food choices for weight loss.
Industry news
True experts value continuing their education and that includes staying current on industry trends and developments.
It might be tempting to try selling your services at every turn, but a far more effective strategy to convert leads is to prove your authority and let your expertise speak for itself.
Share the important information your prospects need and they'll come back to you time and time again as a trusted expert.
2. Share guest posts
Once you've established credibility on your own site, start capitalizing on other sites' traffic with guest posts.
Share high-quality, helpful content and encourage readers to visit your site to learn more.
3. Publish on LinkedIn
LinkedIn allows users to publish full-length blog articles on the social media platform. In addition to writing guest posts and content for your own site, you might want to consider publishing on LinkedIn too because it will…
4. Turn content into an infographic
While technically graphic design requires more work than actual writing, infographics are a valuable content marketing tool because they allow readers to easily consume a lot of relevant data quickly.
If you write guest posts, each submission will need to be original and unique content. However, once created, an infographic can be republished again and again — meaning, you increase your reach without exerting additional effort each time.
Check out this list of 20 available platforms that can help you create the perfect infographic.
5. Write eBooks
Like a blog article, an eBook allows you to show prospective clients exactly what you know — and exactly how you can help. However, an eBook has an added benefit — lead capture capabilities.
Use a lead capture form for your eBook download and you'll quickly amass high-quality, pre-qualified leads.
While many coaches use eBooks to increase their credibility and generate leads, they can also be used as a revenue stream. PwC claims eBook sales will generate $8.7 billion in revenue in 2018.
6. Send emails
Email marketing shares a personalized message with your prospects that can be targeted towards specific selling points they might be interested in.
Experts claim email marketing is one of the most cost-effective ways to increase leads and sales:
7. Share case studies
Case studies help solidify your credibility by highlighting your coaching success stories, which can be a powerful enticement for prospects.
If you share your findings and results with industry publications, you might be featured or highlighted on their platform — which significantly increases your reach.
Ready to Get Started?
If you are interested in cost-effective ways to increase brand recognition and generate more leads, content marketing might be the solution you've been looking for.
Writing online is something anyone can do—all it takes is the right strategies and a little effort. Give these suggestions a try and then tell us how you fared!
About Mike Hanski

Mike Hanski is a content strategist and paper writer at Bid 4 Papers. He prefers to write about creative business ideas, writing techniques, and untapped study hacks.

Check out these related articles: