Sales and Marketing Advice From The Startup Expert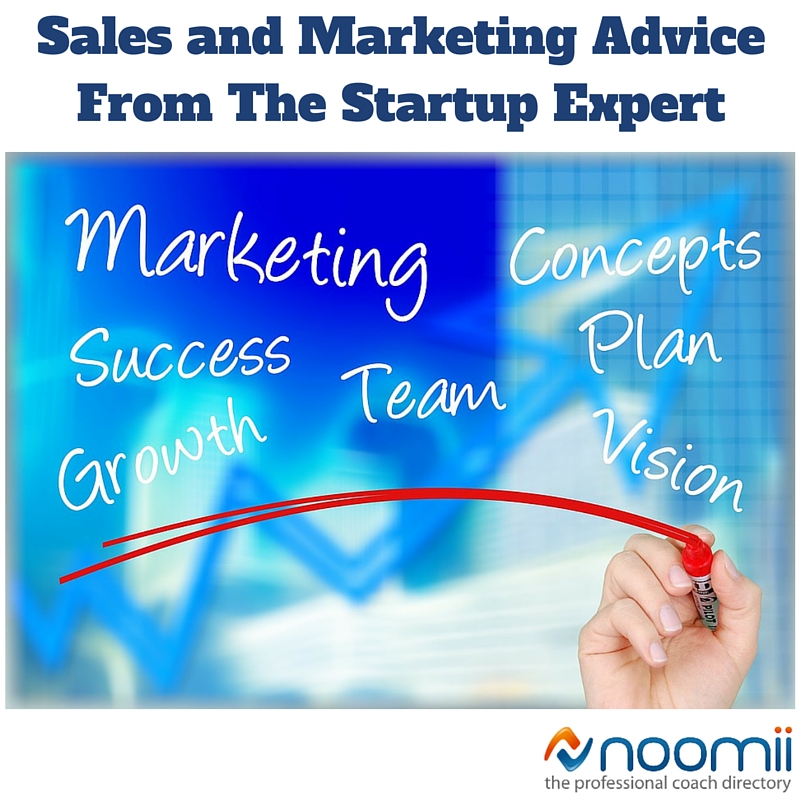 Whether you like it or not, sales and marketing is a huge factor in being an entrepreneur and having your own coaching business. While it comes naturally to people like coach Bert Seither, CEO of The Startup Expert, he can appreciate that this aspect of the business isn't every coach's cup of tea.
"I love sales and marketing - a lot people are intimidated by it," he says. "Initially, people get into coaching just to coach. They don't think about all the other things that come along with it. They visualize themselves having phone or Skype conversations, doing the work and watching money come into their bank accounts. They get coach training education, build a website. Then after X amount of time, they realize they aren't getting clients and leads aren't going anywhere and they have this wake up call and say 'Wow, this is a lot more difficult than I thought.' It's not just me being a coach, this is owning a small business."
The fact is, when owning a business, there are certain necessities that need to be in place to be successful. One of which is having a sales and marketing strategy. Having a team of people that specialize in different areas is the ideal, but when you're first starting out, many can't afford to hire on others to help.
"You have to be a jack of all trades, master of none, when all they really want to do is coach," Bert says."A wise man once said do the job you were hired for, but also do the job that you want. I've tried to take that advice and apply it in my own life and my own business."
With that in mind, we asked Bert to offer up some tips on how to be successful with your coaching business.
Create a roadmap
"If you are embarking down a journey that you have never gone on before, you are probably going to have a GPS to get you from point A from B," he says. "You need to know where to make turns, where you should stop to eat and sleep along the way. What most people do is just start driving. So to get from point A to point B, you waste a lot more gas (money/time)."
He explains that many coaches find out the hard way that being successful is a lot harder than they initially thought. This is why having something mapped out prior to implementing any part of the business is essential.
"New coaches: Before you start implementing, map out a plan. Any business should have a business plan. I'm not talking about just in your head, I'm talking about on paper. You don't need to put in every detail, but have an outline."
He says the same rules apply to coaches that have been in the business for years. "They should still have this plan, but it has evolved. It's a working document, it's always changing."
Invest in yourself
As mentioned, when coaches first start out, money (or lack thereof) is often a factor, but Bert says it's important to invest in yourself and your business. "This is one of the reasons coaches join Noomii. It's a great lead-gen tool. If you are a coach that comes across Noomii and they don't end up pulling the trigger, I would assume they won't be in business in a year," he says. "Noomii offers a money back guarantee, there is no risk to you. If you are not willing to invest in your business, which is really an investment in yourself, what are you going to do? How are you going to get clients?"
[Sign up for Noomii today using the discount code bertseither and SAVE $50]
He explains that it's important to have multiple lead channels, which we will elaborate on in another article. But essentially, the bottom line is coaches are often focused on the wrong things, instead of sales and marketing, which is a huge part of starting up your coaching business and staying successful.
"Sales and marketing is one of those things that most coaches aren't focused on. They may be the best coaches in the world, but they don't have the ability to show clients the value of working with them."
Set deadlines
Coaches act as accountability partners for their clients, making sure that they stick to a plan and complete various tasks or homework prior to the next coaching session. However, when you are a solopreneur, you often don't have someone there to hold you accountable and keep you on track.
"If you are a solopreneur, it can be very very difficult to set and achieve deadlines. You don't have anybody breathing down your neck and there's generally no consequence for not getting things done," Bert says.
This is why he invites coached to pretend instead that they work for a coaching company and it is their responsibility to not only coach, but bring in clients for the company.
"Then imagine having a meeting with your boss; a performance review. What would they say you need to work on? Would you be nervous going into your review? What would you need to work on? Would they fire you for not generating results?" he asks. "If you ask yourself these questions it will really open your mind and help you see it from an outside perspective. You can really gauge how well you are doing and how much more you need to do to see results."
If you put deadlines in place, you can continue on a forward momentum. "It happens far too often that a coach is in the same position today as they were six months ago. It is really because they aren't staying on top of themselves to get the job done. Coaches need to take their own advice sometimes," he says. "Break it down into three different buckets - short, medium and long-term and that should always be a working document as long as you're self-employed. Once you have those goals in place and you come up with an idea, put them in the order in which they make sense. Really give it some thought."
He also says it's important to reward yourself with "low-hanging fruit" to keep yourself energized and give you that immediate gratification.
"It makes you feel like you've got stuff done and the day has been a success. By doing that, it should energize you because you'll see the results."
Be realistic about deadlines
While setting deadlines for yourself is essential to success, Bert warns that it's important both your goals and the time you allow yourself to complete tasks are realistic.
"If you think a project is going to take a month to complete, to be safe, set it to five weeks so you don't miss your deadline. If you aren't able to set these realistic goals and stick to them, you're probably not going to be in business long."
Focus on income-generating activities
As mentioned, Bert has a passion for sales and marketing, so it's easy (and enjoyable) for him to dedicate every waking hour to it. He advises coaches to spend a minimum of 50 percent of their time on sales and marketing.
"Develop new channels and new ways to generate leads and get clients. Develop strategic partnerships, avenues like Noomii. If you're a new coach you should be spending more than 40 hours per week on getting clients."
Work backwards, reverse engineer things - "How much money do you want to make in a year, if money the most important thing to you? If the answer is yes, put together a figure of how much you want to make for a year. Divide it by 12 months, figure out your billable hours (how much you charge clients) and look at how much of a different there is. You may need to come up with a better business plan if things don't match up and you want to hit that number. If not, you're just dreaming," Bert explains.
"You are the CEO of your coaching business. A CEO should always be the best sales person of the company. You are the one that started it, you know it the best. Just like everything else, the more you put into it, the more you're going to get back."
Don't get discouraged
When you are just starting out or have been trying at it for a while with no measurable results, it is easy to get discouraged and want to give up. In fact, it's a natural human emotion. However, in order to be successful, you have to appreciate that there will be ups and downs and it is important you don't let the lulls get you down.
"I have heard excuses from coaches that the market is saturated. It may be saturated, but that doesn't mean they are all good coaches. It doesn't mean they are good at sales and marketing," Bert says. "Be creative, think outside the box and then put in the hard work. Nothing comes to us on a silver platter.
"One of the things that is notorious for business owners. There is an old formula that I learned many years ago - However much time you think that it's going to take to start a business, double it. However much money you think it's going to take to start your business, double it. However much money you think you are going to make by the end of the year, cut it in half."
He says that in order to not be a victim of that formula, you have to realize that is the issue. You need to work smart and you need to work hard. "Working hard is putting in the hours. I probably put in 65 hours per week and I am seeing the results because of it. Working smart has to do with having a plan, not wasting time moving in the wrong direction."
About Bert Seither
Bert Seither and The Startup Expert ®, has assisted thousands of startup and well-established small businesses with their business development needs. He's helped thousands of clients in a wide range of industries, gaining insight into a multitude of fields. He's a, certified small business coach, certified S.C.O.R.E. mentor, licensed tax preparer, author and speaker and has been featured in expert interviews on television networks ABC, NBC, and Fox.