The Three Levels of Your Coaching Website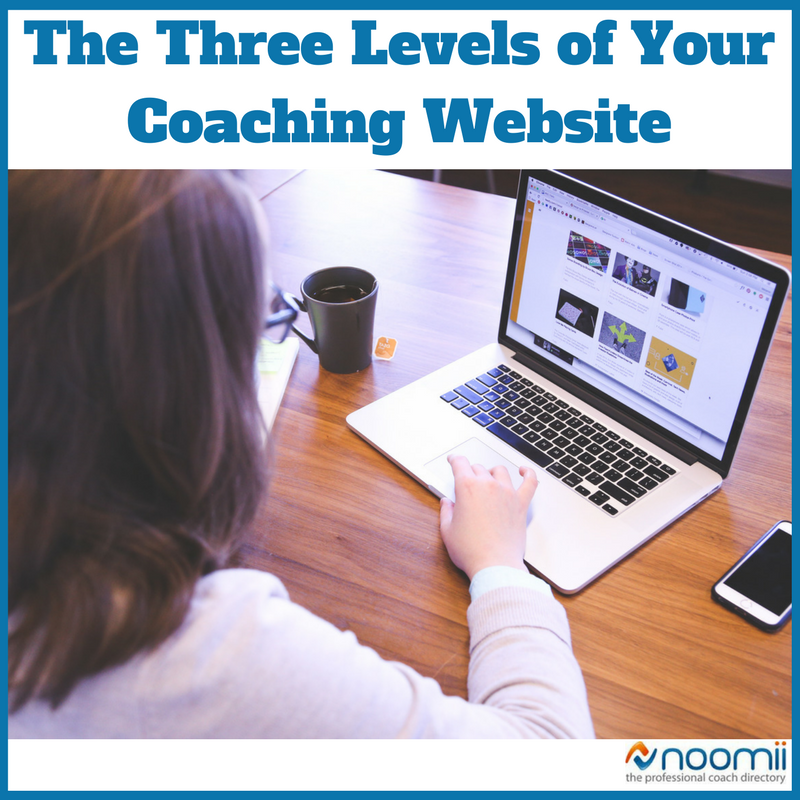 This is a guest post written by Bert Seither.
Over the years I have seen a lot of coaching websites — I mean A LOT! I have seen ugly sites that convert, I have seen beautiful sites that confuse and I have seen just about everything in between. Today I want to share with you the three levels that your website can evolve through as you grow your coaching business and share with you what I believe makes each level great.
A website can be a place for leads to learn, for clients to get more value, for customers to purchase or it can be all three in one. Let's take a look at each of these levels, when you want to consider integrating them and the gifts your website is giving its visitors.
Level 1: Leads learn
I consider this the "digital business card" style website. It's a great place to have informative videos, service and package descriptions, contact information and testimonials. These pages are all about converting leads from other platforms into customers who purchase your services.
Your only goal with this type of site is to get your lead on the phone. You are a coach, the best person to sell your service is you, so design your site to get your qualified lead on the phone as quickly as possible.
The gift you are giving to your lead?
A little bit of your time. The best sites I have ever seen for converting leads into clients doesn't rely on the site to convert leads into clients. As an expert, your time is precious. Giving a piece of your time to a qualified lead is a true gift for them. If you offer a 30 minute call, you can offer real value to your lead and by the end of your time together, you should both know that working together is the right solution.
Give the gift of your time and watch your schedule fill up quickly!
Level 2: Added client value
The second level of a website might not be designed for your leads, but it can definitely help add credibility to your process and that alone helps to increase your conversion rate. This level I call "client resources." It can range from an online scheduler to video tutorials, but the key here is that these are resources for your clients only. Each service is behind a login page, each service is designed to improve the quality of what you are offering to your clientele.
Do you have a blank homework sheet that you give to every client after their first session? Put it in client resources. Do you have a series of videos, a list of books or a community where your coaching clients get to work together? Add it to your client resources! From forums to Facebook pages, from Amazon recommendations to YouTube playlists, if there is anything that you give to every client, put it into your client resources. The most professional and competitive coaches I know all have online resources for their clients and so should you.
The gift you are giving your client?
An easier coaching experience. This not only makes your clients life easier, it makes your life easier as well! The more you coach, the more your client resources grow and the easier it becomes to coach every single client. Instead of writing a long email with all of the homework after each session, you can simply tell them to go to week #3 in the client resources and find everything they need to do.
Level 3: An online store
The third level of a website means is all about automated income. Whether your are a health coach selling water bottles and hats or you are selling automated online courses, an online store is a great place to allow people to buy from you 24 hours a day. This level of site isn't for everybody, but here are some ideas of products and services you can sell on your online store to help boost your coaching business's revenue.
Additional call: Have clients purchase and book extra calls with you that fall outside of their package
Branded apparel: Have a catchphrase? Throw it on a t-shirt and let your clients show the world how much they love you
Entry Level Course: Did you create an online course? Sell it here to show leads that you know what you are doing
Community Membership: Solving a common problem? Get your community together while earning monthly recurring revenue
Your Book: Being a published expert in your field is a great way to get people excited to work with you
An Interview series: Interview other leaders in your field, release the interviews once a month and watch the revenue flow
DVDs or videos of live seminars: Throw a weekend seminar, record it and release it for an evergreen product that can make you money
The best coaching sites with online stores that I have seen are sites that give lots of valuable information about what you are selling, they are well branded and easy to navigate and most of all, every single product they sell is designed to make the client want coaching! The surprise in all of this online store talk isn't that the online store makes you a ton of money. It's that the things you are selling in the online store are either pushing your price up because of the credibility your store's products convey or they are simply breaking the pay barrier between you and your coaching leads. Once they have paid once and are in constant contact with you through your site's marketing strategy, the chances of them buying larger packages increases dramatically.
The gift you are giving a visitor?
Credibility and solutions that are easy to understand and purchase. The more products you sell on your site, the more you show exactly how dedicated you are to your client's success and the more credible you become to visitors who find you. I love seeing a well designed online store from a coach who really understands the products and services that that their clients can benefit from.
As you begin to grow your business, keep these three levels of website development in mind. When the time comes to develop each level, take some time to plan it out with your leads and clients in mind and you will find that your website becomes the best tool in your sales and service arsenal.
And don't forget to read my next post where we go over the power of webinars and how they can help your site sell more than you ever thought possible! I hope you loved this post and I look forward to reading your comments below.
About Bert Seither
Bert Seither and The Startup Expert ®, has assisted thousands of startup and well-established small businesses with their business development needs. He's helped thousands of clients in a wide range of industries, gaining insight into a multitude of fields. He's a, certified small business coach, certified S.C.O.R.E. mentor, licensed tax preparer, author and speaker and has been featured in expert interviews on television networks ABC, NBC, and Fox.
Check out these related articles: