The Power Piece of Your Website Content: Webinars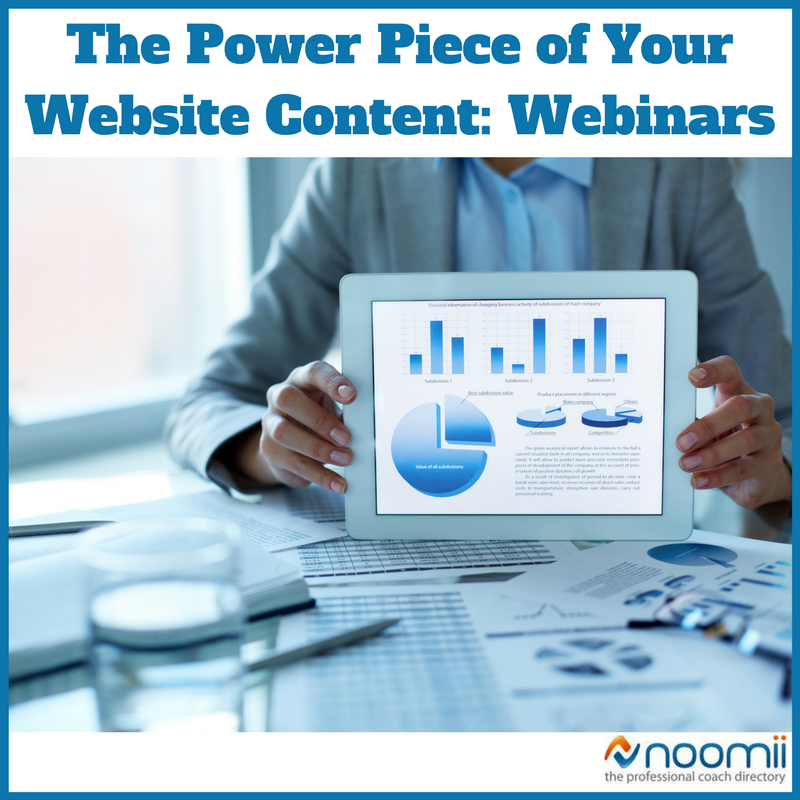 This is a guest post written by Bert Seither.
Last post we talked about the three levels of a coaching website. This time we are going to go deep into one of the most powerful pieces of content your coaching business's website can possess; the webinar.
People love to watch experts who can help transfer information into actions that inspire them to accomplish the goals they are trying to reach. As a coach, the opportunities for webinars are obvious! By inviting your leads to participate in a short webinar, you not only have the chance to get your lead excited, you also have the chance to show leads exactly who you are and why working with you is a great idea.
Webinars are trust builders. With the right webinar, a lead's reasons to say yes build. You understand them. They understand that you hold the answers they seek. It's a moment of connection that you don't even need to be present for!
Your webinar should be exciting, encouraging and so enticing that those you seek to reach can't help but take that next step to begin working with you.
The basics of a great free webinar
Fairly short (Less than an hour)
The length needs to be long enough to teach the lead something important, but short enough to keep their attention until the end so they can take advantage of your offer.
For a specific purpose (not to sell them on your services)
The purpose needs to be informational or transformational. You are not going to talk for an hour about how great your services are. Teach them one specific tactic, trick, hack or habit that they can start using right away to get closer to their goal.
Important information presented in slides
Take all of your important points and put them into a powerpoint presentation that is branded and when the moment comes, switch the screen from you talking, over to the slide.
Traceable through a webinar platform
Knowing how many people watch your webinar, when they log off, what percentage take you up on your offer and the conversion rate from your marketing campaigns are all extremely important things to track when offering webinars.
Performed professionally (script, lighting, audio, etc)
If you look like a ruffled vagabond recording your video in a shady basement with tinny audio who mumbles, forgets what you are talking about and lacks confidence, expect your results to reflect your quality. Write a killer script, use a tablet or phone as a teleprompter, get a good quality camera, get a lavalier microphone, get good lighting. Heck, if you can get a green screen or rent a studio, even better! Quality means everything.
An offer at the end
The offer at the end is everything! You can hint to it during the webinar, but bring out the big guns at the finale and offer viewers of the webinar some sort of special treatment that they won't get anywhere else on your site. They took the time to listen, they showed interest and now give them the chance to pull the trigger without hesitation. Whether it is a free session, a free needs-analysis, a discount on a large package or something else that you cooked up to get them in the door, make the offer make a splash so that your webinar can make your business boom!
That sounds impossible! I can't do that!
Nobody loves to struggle with a task they are not familiar or comfortable with. Even the experts admit that the first time they attempt to create a webinar, that it is a disaster that took too much time, too much money and didn't give them what they hoped for...sales!
You can do it yourself, but with no experience or training, that takes a lot of time and effort and in the end you don't want to look at a webinar that is as boring, poorly written, poorly produced or simply doesn't cause your audience to reach out. You need to build a webinar that is bold and emblazoned with so much energy and enticement that your target audience just can't wait to press that "buy" button.
Would you struggle with writing a clear, concise script? How about creating a registration page or programming your backend emails to produce pre-webinar reminders and post webinar responses?
Did you know that you can have specific emails sent out to based on the viewer's actions or inactions? Did you know that you can program a webinar system to send out a specific email for those who attend but don't purchase, don't attend, leave early, choose to purchase?
Do you feel comfortable creating landing pages for offers before and after the webinar?
Writing aside, just the unfamiliarity with technology can seem equivalent to rocket science. If the time and struggle it takes for you to create your own webinar doesn't equate in money to the time you're giving to that task, it's time to bring in a rocket scientist!
I talk a lot about the power of outsourcing your weaknesses so that you can focus on your strengths. So today if you are feeling overwhelmed by reading this know that there is the option to outsource absolutely everything! You can go search the internet and find services that will do everything for or you can come to the Startup Expert (R) and have us do all of the parts you feel intimidated by. From writing to performing to producing to posting your webinar, we can do it all!
About Bert Seither
Bert Seither and The Startup Expert ®, has assisted thousands of startup and well-established small businesses with their business development needs. He's helped thousands of clients in a wide range of industries, gaining insight into a multitude of fields. He's a, certified small business coach, certified S.C.O.R.E. mentor, licensed tax preparer, author and speaker and has been featured in expert interviews on television networks ABC, NBC, and Fox.
Check out these related articles: