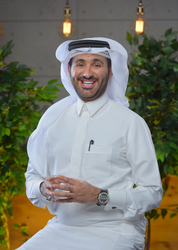 Dr AbdulRahman Al-Dayel

Riyadh, Ar Riyad
Career Coach, Leadership Coach, Life Coach
COACH-PRENEUR, Most Proud of Coaching & Empowering more than 10,600+ people around the world, Harvard Business School & University of Oxford
Are you, your team, or your company struggling?! Coaching people is my passion for helping them live better via exploring and empowering them; To be a Leader via Executive, Leadership Coaching..
Details

Riyadh, Ar Riyad

+966 55 555 2388

Send Message
Visit Website
Gender: Male
Training: CoachMe Ltd., American Union of NLP
About Me
I am certified from 10 Global Coaching Credentialing Organizations.
My passion is to empower and help people improve their skills as per the new trends. To develop an organization by creating new opportunities and taking their lives to another level, furthermore adding value to my community with the purpose of impacting their lives through my expertise and experience. I have trained about 10,600+ (and counting) people from all sectors. Which enabled them to reach a state of mental clarity; which has been reflected in their ability to identify their personal goals and put them into smart operational plans associated with inherent forces to enable and succeed, which ensures the results of those goals, by translating their ideas and values into practical steps that can be measured and achieved.
Some of accreditations/personal achievements:
- Emotional Intelligence Certified
- Team Coach Certified from CoachME, CMTC
- Marshall Goldsmith Stakeholder Centered Coaching
- International Coach Certified, the Art & Science of Coaching Modules
- Certified Professional Business, Executive & Life Coaching
- Certified Systematic Executive, Team & Board Coach
- Certified KPI Trainer & Professional
- Certified PPA Trainer
- Certified Change Management Professional (CCMP)
- Team Coach, Guaranteed & Measurable Leadership Growth
- Leadership and Team Development Certified, International
- Exercising Leadership from CMEC, Beckett M
- Certified (HPTI) High Potential Trait Indicator
- Certified (GIA) General Intelligence Assessment
- Certified High potential Trait Indicator ( HPTI)
- Certified Leadership Impact TAP 360 ( WAVE)
I am a committed Certified Executive Coach in Leadership Development, Entrepreneurship and Small Business Management & a Certified Trainer and Lecturer at a University in the Kingdom of Saudi Arabia.
Life is full of difficulties and hurdles. You are not alone. I reach out to you and say, "Let's walk together to make this one of the most beautiful
Reviews
79 reviews (76 verified) (4.97)
Thank you, Dr. Abdulrahman Al-Dayel for coaching session You saw something in me that I didnt see in myself. Thank you for believing in me and helping me

Dr. Noura
He sheds light on a dark part of your life that may be the cause of everything , Thank u dr

Anonymous
The experience was very positive. He definitely clarifies your thoughts and shows the pathways that you can pursue. Encourages you to adopt the right habits. All in humble and serene manner. God bless him.

Nawaf
As I was facing many challenges in the work environment being a leader Dr AbdulRahmans coaching sessions wear insightful and helped me discover myself more and have a clear vision of what's to come. Highly encourage.

Lubna
Hello, Dr. Abdulrahman, I cant thank you because you reminded me that there is an important person who deserves a good life intellectually and socially and that no matter how bad life is, it must blossom. Thank you for reminding me of Wejdan.

Wejdan Al-mabadi
Hello, Dr. Abdulrahman, I can't thank you because you reminded me that there is an important person who deserves a good life intellectually and socially and that no matter how bad life is, it must blossom. Thank you for reminding me of Wejdan.

Wejdan AlMABADI
Hello, Dr. Abdulrahman, I can't thank you because you reminded me that there is an important person who deserves a good life intellectually and socially and that no matter how bad life is, it must blossom. Thank you for reminding me of Wejdan.

Wejdan AlMABADI
There are more than 20 Coaches have been coaching me since 2014. However Dr. Al-Dayel is the top and best as I have been getting many advantages, benefits, ROI as a huge impacting in my personal life, Leadership Skills and my business too. Dr. Al-Dayel is a systems leader with a depth of knowledge in leadership development and and exploring me more via his capabilities for massive assessments that help me to realized myself more and more with his professionalism, humanity and his collaboration as he calls me as partnership. Dr. AbdulRahman is an exceptional leader, coach, and mentor. He has a unique ability to quickly discern root causes of organizational challenges, to include human resource problems and also my business resources. So, he empowered my Team especially the C-Level via given me the tools I needed to put in the work, and was a strong support and guide as I wrestled through the details of what motivates me and my team as an executive, manager, parent, and human person. I have such gratitude for the way he reshaped my approach to work and how I want to show up in life. Dr. Al-Dayel is a fantastic leadership and Team coaching. I could always trust his word and he was very reliable especially within facilitates my team to be growth and for one-on-one leadership, Executive Leaders & Business coaching and for cultivating talent management workshops for teams. Dr. Al-Dayel is particularly talented at helping people to become more confident, high impact contributors. I wholeheartedly recommend Dr. Al-Dayel to anyone who wants a greater sense of meaning, purpose, and authenticity in their work and life, and i am still continue working with him more and more to be sustainable improve my business and my personal life. Thanks My Doctor and my Authentic Coach

Hussam Al-Ibrahim
The session was useful for me a lot . Dr. Abdulrahman opened my mind to so many things in my self I didnt know about it. Thank you so much Dr , I really appreciated it .

Munana Alrrakidi
Abdul Rahman Al-Dayel is an exceptional professional coach and leader who has demonstrated a strong commitment to personal and professional growth. With a relentless dedication to self-improvement, he has attended numerous courses and consistently expanded his knowledge and skill set. Through his unwavering determination and expertise, Abdul Rahman has been able to successfully guide individuals towards unlocking their true potential. As the leader of the first empowerment team, Abdul Rahman has showcased remarkable leadership qualities that have inspired and motivated his team members to overcome obstacles and achieve remarkable success. His ability to recognize the unique strengths and talents of each team member has fostered an environment of collaboration and growth. Abdul Rahman's coaching methodology is rooted in empathy and understanding, allowing him to connect deeply with his clients. Through his guidance and mentorship, he has helped individuals navigate challenges, harness their strengths, and achieve their goals. His compassionate approach, coupled with his extensive knowledge and experience, has empowered countless individuals to break through barriers and achieve extraordinary results. With Abdul Rahman Al-Dayel as their coach and leader, team members have not only seen tremendous personal growth but have also been able to translate that growth into tangible professional accomplishments. Abdul Rahman's unwavering support, coupled with his ability to nurture a culture of empowerment, has transformed the first empowerment team into a community of high achievers. So, Abdul Rahman Al-Dayel's commitment to continuous learning, exceptional coaching abilities, and outstanding leadership make him an invaluable resource to anyone seeking personal and professional growth. His impactful presence and unwavering dedication to empowerment have not only transformed individuals but have also fostered a legacy of success within the first empowerment team.

Hussam
Dr. Abdulrahman is a true professional who adds massive value to any leader he works with and I would highly recommend his services

Gidon Rosing
Great coach , hope best and great life for him

Salman alyabisi
Thank you, Dr. Abdulrahman, for this transformative experience in my life. It's been a pivotal moment since our first session. You've been a great source of inspiration and a guiding light in my personal journey.

Eng. Mohamed Fawzi
For the first time, I tried the session, and it was an experimental session that I will repeat for the benefits I gained. Of course, with the excellent trainer Dr. Abdulrahman Al-Dayel, it will be, God willing, a turning point in my life.

Abdulmalik Aldrees
Anonymous
Dr. Abdulrahman was extremely helpful to my 25 years experiences dealing with managers and department heads. I started looking at my previous interactive decisions. These decisions would be successful and more effective if I would have done it after my training with Dr. A. Aldayel. I recommend all of you to take all trainings and especially "Coaching" now, and wish all to succeed in the new "You".. Abdulrahman..

Abdulrahman Alamoudi
Mohamad Fawzi
Anonymous
It was very useful and had a positive effect on myself, and all the directives of Dr. Abdul Rahman Al-Dayel will be implemented

MR. ZIAD ALGARNI
Dr AbdulRahman Al-Dayel He's good... I liked... Perfect coach.. Thank you

Fuad badavi
I enjoyed this experience a lot. I talked about stories I don't usually talk about. I thought about the important matters that I need to change. Thanks for everything

Yasreb ibrahim
I enjoyed how a session was facilitated

Moniah
In our Discovery Session, Mr. Abdulrahman has been client-centered. He pushes the client to specify their need. For me, we made a list of 7 areas to improve upon. Then, we selected one area to work on first. Then, he asked me to specify steps I will take to improve on the area. Then he ask me to write the date I will do the steps. I find that he holds me accountable for my personal growth. I find his method efficient. That's so far my experience with him.

Kali
When I think of Dr. AbdulRahman Al-Dayel, I think of 2 things: Kind and Authentic. I know these are two words that are very fashionable in today's world, but with Dr. Al-Dayel, these are two values that he lives by. They're not a fad, they're a lifestyle as far he is concerned. In spite of being very busy with his coaching clients by the way he called us as ''My Partnership'' and he is wright. Before working with Dr. AbdulRahman , I found it difficult and overwhelming to summarize the variety of experiences Ive had for 13 years, He provides examples, asks clarifying questions, and provides you with tools that equip you with skills to share your story in effective ways. Working with Dr. Al-Dayel has paved a new path in my job search and has provided me with clear action-steps that make me feel confident and trust myself more and more in my ability to find a job that I will love. I recommend Dr. AbdulRahman to anyone interested in improving their Career-Path. You will not be disappointed. Big Thanks to you my Doctor and my Coach

Princess Layan
Dr. Abdulrahman is a highly skilled coach who deeply cares about his clients and is passionate about helping them achieve their goals. He listened attentively to my concerns and provided valuable insights and guidance that helped me gain a better perspective on my situation. I want to thank Dr. Abdulrahman for his time and expertise. I would also suggest getting more than one session to fully benefit from the value of coaching. Overall, I had a great experience and would highly recommend Dr. Abdulrahman to anyone looking for a compassionate and effective coach.

Bilal
Good evening Dr. Abdel Rahman, may God bless your time with happiness Words to express my thanks to you and for your valuable time with me at the session It was a very wonderful and informative experience Thank you very much

Anonymous
Dr Abdulrahman is a blessing that has made a real difference. One of the most remarkable experiences of my life was working with Dr Abdulrahman, which helped me perceive life and work from a wider perspective. Provided me with a feeling of healing and allowed me to comprehend myself deeper than I ever could. I will be forever grateful to this amazing personality.

Nouf Al Daher
Coach makes me comfortable, improves the quality of my life, helps me know myself more, I learned with him how to arrange my thoughts and feel peace and comfort.

Rafeef
First of all I would like to thank you for the great opportunity, also thank you for the coach session that added dimensions that were absent from my mind, I still remember the mental bells you knocked smartly to wake up from the comfort area in which I lived for a long time, I can't thank and appreciate the amount of the benefit I got.

Abdullah Bosgir
Excellent discussion session. It really help to think of some areas that never have enough time to think about. Important step to improve my life quality.

Khalid
What is up next for me?". Dr.Al-Dayel provided a safe, yet challenging series of inquiries for me as a budding entrepreneur, Dr.AbdulRahman has an excellent track record as a leader in his own right, as well as best-in-class training in proven tools and methodologies for developing leaders to improve results and impact. I've observed his coaching firsthand and know his to be insightful, an outstanding sounding board, and a coach who challenges clients to get unstuck, Dr. Al-Dayel really helped and supported to deeply examine and understand my own skills and work history and then framed all of this information in an exceptional final product. as I was impressed with how much we achieved in fifteen minutes and I look forward to working with Dr.Al-Dayel again in the future.

Eng. Nawaf Al-Abdullah
.. : ..

AsadDot
It was a great session, Dr.AbdulRahman helped me to think in the future with fresh thoughts and led me through the creating of my self-development plan journey in a simple, friendly, and supportive way, He makes you know yourself as if you did not know it before, love life, and set your goals in it.

Farah Qadan
Thank you, Dr. AbdulRahman Al-Dayel for the coaching session. During the 45 minutes, you have helped me find clarity in my work growth strategy. I have also enjoyed the time, and was impressed by your attention to details and by the questions you have asked.

Fahad AlSemari
Hala
Dr abdurahman is really inspiring person ,through him my view of many things Changed for the better ,I really thanks him and I ask God to reward you with all the best ..

Dr Layla
Aysha Alolaqi
The session was important to me because it knew my strengths and weaknesses and determined my personality type... hopefully I repeat the session its very fun

Ibrahim DA
I had the privilege of attending a life-changing session with Dr. AbdulRahman Al-Dayel, an exceptional life coach who guided me on the path of effective time management. Dr. Al-Dayel's expertise and personalized approach were truly remarkable. With his insightful strategies and practical advice, I gained valuable tools to optimize my time and achieve my goals. Dr. Al-Dayel's passion for helping others unlock their full potential shines through in every session, and I am incredibly grateful for the transformative experience I had under his guidance.

Khalid Eleiwah
Your advice, Dr- Abdulrahman, will be with me for the rest of my life. Thank you, coach, for everything youve done to support me. Regards,

Bander Alsaadoun
Mishal Alhokair
Nouf aoud
I really enjoyed getting to know a new way of thinking And a new mechanism in the way of decision-making This in turn will give us the right way how we can enjoy the beautiful life .

yazeed alfaifi
Medhawi Alsowailem
Dr.. AbdulRahman Al-Dayel listened to me carefully during my session with him, corrected some of my beliefs, and asked me some questions that inspired me. He provided me with the solutions to bring out the best version of me. Thank you Doctor for your kindness, tact and support

Anonymous
I heard a lot about the life coach, but I did not believe it. I thought they were lying and thieves. However, when I met Dr. Abdel-Rahman, I felt comfortable. I had a feeling that he is an old friend and I know him for years. By the end of the session I walk out with future goals ,also a plan to implement my future goals. Thank you, Doctor, I am very grateful to you. I cannot thank you enough for what you did for me. One hour can change my passion and self-confidence. Therefore, how about if I continued for more than one session?

.
Few people care as deeply about someone elses professional development as Dr.Al-Dayel does. He commits his whole self to coaching and development and his clients can feel it. Dr. AbdulRahman is an incredible coach who is truely passionate about helping you achieve the best out of your career. He does an incredible job helping you reflect on your job while also encouraging you to break out of your comfort zone to grow professionally. I really enjoyed my coaching sessions with Dr. Al-Dayel and I could not recommend his enough as a career coach. Any company would be incredibly lucky to have his in staff as a career coach.

Dr. Riyah
Abdulrahman is a magician, the way he extends his support is an example in itself. He dedicated, passionate and honest to his work and his client with a positive track record. I recommend his highly

IK
Amazing coaching experience

Nawaf Alem
I really enjoyed the session with Dr Abdulrahman talking to him feels like to talking to myself , I have become more aware of ideas and thoughts

Areej Mohammed
Dr. Abdul Rahman Al-Dayel, I am writing to express my sincere gratitude for the coaching session we had . I found it to be incredibly helpful and insightful. I was particularly impressed by your ability to quickly assess my business and identify the areas where I could improve. You provided me with clear and actionable advice that I can immediately implement. I also appreciate your willingness to share your own experiences and expertise. Your stories and insights gave me a new perspective on my business and helped me to see things from a different angle. I am confident that the advice you gave me will help me to take my business to the next level. I am grateful for your time and expertise, and I look forward to working with you again in the future.

Fahad Almansour
Anonymous
Ive been working with Dr. Abdulrahman Al-Dayel for almost a year. Ive noticed that he is always looking out for the best interests of his team. His ability to put things in perspective has always pushed my team and me to do our best job and strive for perfection.  I want to thank Dr. Al-Dayel for always showing enthusiasm and being willing to jump in wherever the team needs assistance or guidance. That kind of leadership really helps us to stay motivated. Dr. A

Dr. A
Dr. AbdulRahman Al-Dayel was a very helpful and professional life coach Being an excellent listener, characterized by objective discussion and imposing opinions, is one of his distinguished skills as a life coach. As a result of his broad knowledge, he can approach extremely rich dialogue areas, giving the discussion strong axes and motivating him to overcome obstacles.

MAS
Dr. Abdulrahman is an amazing, articulate and intelligent individual and a highly professional coach. He has been an essential part of my personal and professional development. His ability to identify and communicate your strengths and challenges is remarkable. There are no words enough for the change he makes toward your success in life. Thank goodness for having your guidance and advice as I wish you the best for the impact you have in my personality.

Muhammad Bin Dahmash
Dr. Abdulrahman is very profissional in his coaching i have leaarned a lot from him and could see a change in my life for the better due to his coaching

Fayez Aljabri
Amazing services! Will definitely recommend it

Talal Alarnous
I recently had the pleasure of working with an executive life coach DR. AbdulRahman I. Al-Dayel who completely exceeded my expectations. From the moment we began working together, I knew that I was in good hands. First and foremost, my coach Dr AbdulRahman was incredibly knowledgeable and experienced in their field. They had a deep understanding of the challenges that executives face on a daily basis and were able to provide me with invaluable insights and strategies for overcoming these challenges. But what really set my coach apart was their ability to connect with me on a personal level. They took the time to get to know me as an individual and were able to tailor their coaching approach to my unique needs and goals. They were always supportive, encouraging, and genuinely invested in my success. Throughout our time together, I saw significant improvements in both my professional performance and personal well-being. My coach helped me develop new skills, overcome obstacles, and achieve goals that I never thought possible. Overall, I cannot recommend this executive coach highly enough. If you are looking for someone who is knowledgeable, supportive, and truly invested in your success as an executive, look no further than this amazing coach. :)

Zainab Jaffer
Dr. AbdulRahman Al-Dayel has been an integral part of my personal and professional development. His professional approach to work enhanced my capability, skills and my decision making process therefore opening the many doors to a joyous and constructive my future. I believe Dr. Al-Dayel has made an impact on the Senior Management Team i belong to by helping and supporting us by embowing myself and all stakeholders to get progresses. As a result, Dr. Al-Dayel is a great investment of your time, skill, energy, and emotions. My advise, if you believe there is nothing wrong with that logic, you need to contact Dr. AbdulRahman immediately before it is late !

Dr.Noura Al-Rashad
Anonymous
A great man who understands the problem, analyzes it and gives amazing solutions Thank you so much Dr. Abdulrahman

Dr.Ibrahim Alfadhel
If your hurting, if your confused about life, if you have been in countless relationship, if you have trouble getting along or even tolerating your friends or family.. Dr. Al-Dayel is the solution that is the person you should go to. He is helped me view life differently and therefore allowed me to come to enjoy and crate my own happiness towards life and living. He is an engaging, empathetic individual who creates a safe space for his clients to explore the possibilities. Highly recommend seeing his even once to heal your life a little, but I can guarantee your life will be changed after meeting this wonderful soul.

Dr. Noura Al- Ibrahim
Dr. AbdulRahman is more than just a Leadership Coach. He is a trusted advisor. Dr. Al-Dayel knows how to help and empowering each one including my and my Team as well as my stakeholders to get the most form themselves to achieve their full potential in their business and personal life and understands the connections between body, mind and performance. Dr. Al-Dayel is passionate about supporting and empowering his clients' toward their vision of success, and he has a diverse business background working in United States, Australia, UK, Chain and other countries. I recommend Dr. Al-Dayel as an executive, Leadership and organization Coach as he just get it. And i am sure he will keep you moving toward positive outcomes and success.

Meshal Bin Abdullah
My experience was outstanding. My life has changed and I owe so much to this man. He's supportive, professional and highly committed. He understands how the executives work and behave and he will help you with conducting yourself around them. He is structured, determined and goal oriented. I highly recommend him as a coach and a consultant

Mohammed Abdullah
Dr. Al-Dayel is changed my life professionally and personally, he is one of the most dynamic, influential and powerful people that i have had the good fortune of meeting. I have engaged in a deeper level of connection with my team and in the board members as well as my family, allowing me to identify my purpose and begin to live it meaningfully. In a world of complex systems as well as complex expectations as i was more Perfectionism as a result, I am getting better to enjoy my journey. So, I am sure that Dr. AbdulRahman is enjoyable to help you identify your personal gifts and leverage those toward personal and professional success. Retally, i cannot recommend working with him enough !!

Vanderbilt Bin Mohammed
Dr. Abdulrahman is a great coach. He's a very cool teacher, and one of my truly happiest moments working with him and I'm looking forward to growing in my career with his help and encouragement. He is very professional in guiding individuals to find themselves, their passions, and their careers. He is knowledgeable and wise. I'm so glad to know him.

Naif Al Angari
Dr. AbdulRahman is an added value to your life, to ur career, his advise will make the difference

Mohammad Al-Hinnawi
it was a good experience for me, i liked the session with Dr. Abdulrahman and everything was excellent.

abdullah alkhodhairy
First of all I would like to thank Dr. Abdulrahman for his patience with me. Regarding the couching sessions, it was really good and helpful. Open my mind and eyes on new things .. Focus on my self and how should I think to be better version of myself.. I really appreciate his time and his experience with us. Thank you.. Regards,

Thuraya Al Nadeem
Dr. Al-Dayel is a wonderful Business & Life coach. He is so inviting and works with each person to truly understand their needs in their next step. He is a great coach and I have sent his individuals that weren't a fit for my firm but that He could possibly help. He is professional and very passionate about helping individuals and organizations to find their passion and career. Please reach out if you are interested in a new career. If you ever needed a career coach I recommend Dr. Al-Dayel, Truly a joy to work with and I look forward to growing in my career with Dr. Al-Dayel's help and encouragement! He has integrity that you can take to the bank, and is generous with his knowledge and wisdom.

princess Fatmah
Dr. AbdulRahman is a fantastic Coach and very through with his exploration of possibilities for my next career shift as well as my husband too. He understands and listen well to what i am looking for and then connects the dots for me to see what options i could explore that i never would have imagined !!! It's not unusual to find someone who has a passion for helping people improve their Personal life, corporates and health. Dr. AbdulRahman Changed my life to be better as that makes my life more quality.. I really appreciate your time and effort to help people, May ALAAH protect you.

Sarah Al-Soudairi
Dr. Al-Dayel is high-level leadership and executive coach as has unique perspective on leadership, helped me to explore meself, I can admit that I hasd a new data of birth since I started the coachig session, Dr. Abdulrahnan, I am gradfull for your support me, empower me, I will keep up with your to be improving Abdulrahman Bin Mohammed,

Abdulrahman Bin Mohammed
A person who does his job perfectly and with love and dedication. I haven't seen someone like him. He makes you know yourself as if you did not know it before, love life, and set your goals in it.

Sana
Abdullah Altammami
It was a great session, Dr.AbdulRahman helped me to think in future with fresh eyes and led me through the creating of my self development plan journey with simple, friendly and supportive way.

Basma Abouelezz
Anonymous
Anonymous
If you are looking for an Executive/Career coach, look no further than Dr. Al-Dayel ! He literally changed me life. Not only does he have a special talent for helping you align your personal values with your career goals, but his moral character, empathy, and emotional intelligence is second to none. I would highly recommend Dr. AbdulRahman as an executive and Leadership coach to learn how to define goals, play to your strengths, and improve in a demonstrable way.

Waleed Almutairi
Dr. AbdulRahman showed me a new way in life and I am truly grateful to him. He is the type of Coach that will help you get past your mistakes and learn from them. I am truly honored to have had a session with him.

Shaiztha Rehana