6 Lessons I've Learned Being a Coach Solopreneur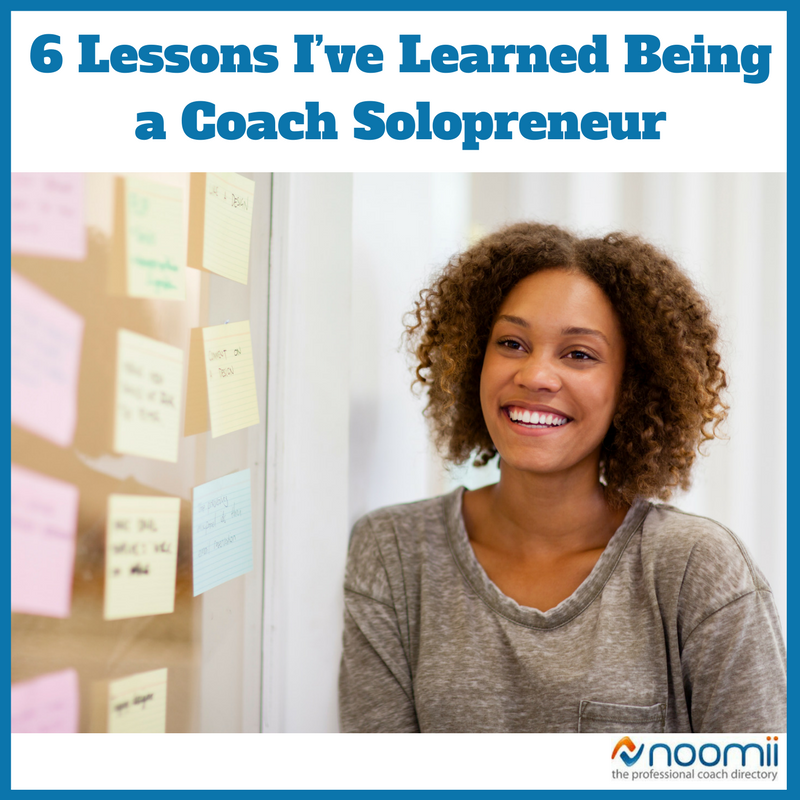 This is a guest post by Mary Kruger. Want to contribute? Check out the 2017 publishing calendar.
Looking back at the last year, it was my busiest yet for my coaching business. Here's what I've learned:
1. Take your business and yourself seriously
A lot of voices can be heard in your head when you are running your own business. Have you stopped and listened to what is being said? Mine include:
"You aren't any good at this."
"You are just playing at this business."
"Get a real job!"
As a coach I recognize these as the voices of the inner critic/gremlin or saboteur. Once I recognized my own inner voices and acknowledged them, I was able to begin countering the voices. Affirmations can help – saying positive messages to yourself, such as, "I am an entrepreneur, I own a successful business and I am a good writer" have helped me counter the negative inner voices.
The results? Once I started taking myself more seriously and believed I was a real business owner, others did too and the clients followed.
2. Set boundaries and schedule your time and projects
When you work from home it is very tempting to take that longer lunch or go to the beach for the afternoon on a sunny day. Typically my lunches with friends used to creep up to three hours long because I didn't have any pressing appointments later in the day. It became easier to do errands during my extended lunch hour when it was quieter and most people were at work. The downside? My business suffered.
When I set regular boundaries around my business hours, things started happening. I still took lunch – but for an hour. Errands had to be scheduled during my lunch hour or after work. When I wasn't with clients I scheduled timeslots to work on other business projects like my online job search program. In his book, "Give me a Break – The Art of Making Time Work for You," popular business coach and time expert guru, Hugh D. Culver, talks about "chunking" your projects and scheduling time to work on them. Breaking projects into chunks allows you to see the steps needed to accomplish your projects. By scheduling time for these projects in my day and chunking them they became easier to complete and I felt more productive, positive and successful. The result? More business and more clients.
3. Invest in yourself
As a business owner and a coach, investing in yourself is crucial to a successful business. But like the shoemaker with the worn-out shoes, I wasn't investing in myself. Once I put my money where my mouth is (sorry for the colloquialism) and joined a business coaching program, things started falling into place. Not only did I have the expertise of the business coach but also the support, shared experience and accountability from the other business group members.
4. Let go of perfection
This was a tough one for me and to be honest, I still struggle with it. Competency is a strong value of mine. I used to spend agonizing hours making sure I had just the right words when writing articles, sending clients emails or building training programs. A dear friend recently asked me, "When will you be competent enough?" That was a hard reality.
Now I work hard to let go of perfection and to believe and trust myself. In 2016, things started to click - my job search articles were getting published, a became a Noomii Career Expert and clients saw the real me, a person who has faults and weaknesses just like everyone else.
My learning? Releasing my perfectionism helps my clients relate to me better not only as a coach, but as a real person with the same kinds of struggles they have.
5. Awareness and intention
Whatever we concentrate our attention on is what often becomes in focus and brings results. In job search I call it, "Putting it on the radar."
Here are a couple of examples to illustrate what I mean.
When career coaching I encourage my clients to become aware of potential leads wherever they are. Clients begin to see 'Help wanted' signs, articles in the media about companies expanding to target or people they would like to network with.
Another example…our family has a golden retriever, Rolly. When we first got Rolly suddenly everywhere I saw goldens. Where were these dogs before? When I became more aware of this dog breed, they came onto my radar!
When we begin to put our attention truly on our business, our business grows. Setting intentions help me see my business's possibilities and have a positive outlook on my business, bringing the success and impact I want. What are your intentions for your business and what areas will you focus your attention on?
And finally…
6. See the "Why"
Adults learn best when they understand the why behind things. The same applies to your own business. When you understand why you get up early to finish that article or answer those late night inquiries, your business will thrive. My why? To inspire women – and in particular moms and coaches - to reach their full potential. I love what I do and it is an honour to coach others.
Which of these lessons might you apply to your business?
About Mary Kruger
Mary works with overwhelmed professional women who are stuck in their career, by helping them rise above the competition, get the job they truly want and the money they deserve - faster and with less hassle. She specializes in working with mom's, (she's a mom too!) - helping them gain balance, clarity and success, taking back their lives as she did with hers. With over 10 years of coaching, Mary has helped more than 1,200 people overcome the isolation, frustration and discouragement job search can bring. Contact Mary on Noomii or her website.\
Check out these related articles: