Webinar Hosting 101: How to Be a Good Speaker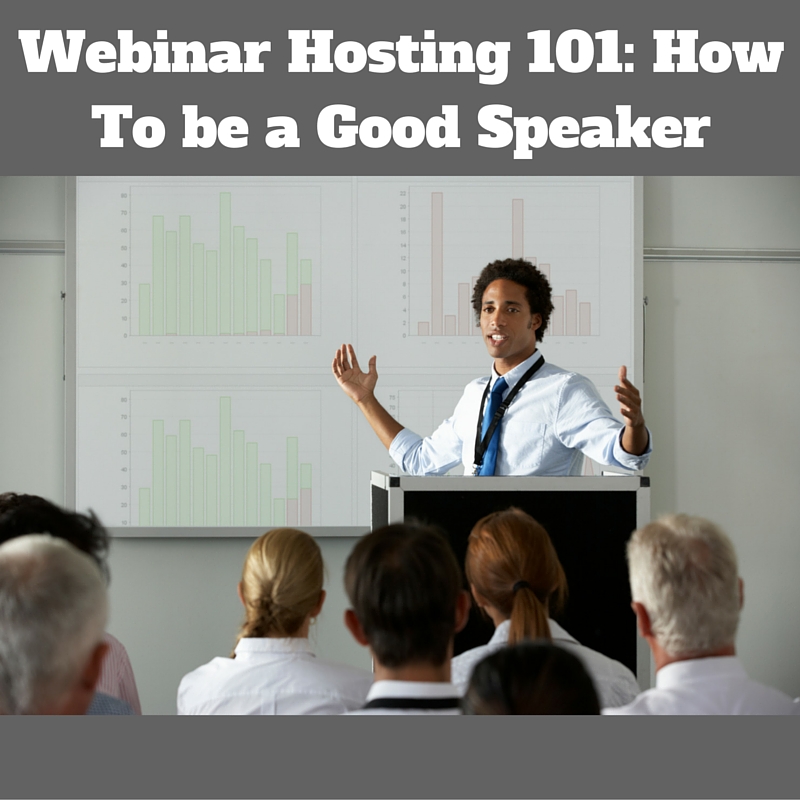 You've decided to go ahead and host a webinar to help grow your coaching business. Fantastic! You've gone through the step-by-step process of putting it together, you've created a landing page and set up your conference call service and you have a list to send an invite to.
So, what else is there to do? Well, if you are like many of us who aren't comfortable speaking to a large group of people, figuring out how to be a good speaker is a hurdle you need to overcome before you host a webinar or teleclass.
Having talking points or a script can only get you so far. If you are overly nervous, it will reflect in your voice and this will likely lead to a lacklustre webinar. What's more, despite being knowledgable in what you are presenting, if you aren't able to articulate your points in a clear, concise and interesting way, you may come across as not knowing what you are talking about.
To help you avoid this, we have put together a guide on how to be a good speaker to help make your webinar a success.
Start with a laugh or anecdote
We have all done icebreaker exercises at some point in our lives and there is reason for that. They are a great way to relieve any tension between people and get the conversation rolling. A joke or funny anecdote related to your topic is a great option. However, if you aren't one to deliver good punchlines, Toastmasters recommends offering up a short story about yourself.
Think about your webinar topic and brainstorm incidents in your life where the information you are going to provide would have helped you. Then tell the story.
Say, for example, your webinar is about how to ace an interview. You likely have a scenario when you or someone you know completely bombed one. Use this to break the ice, show your personality and lead into the topic.
Another way to break the ice with your audience is to show vulnerability. Although it may seem counterintuitive, TED Talks curator Chris Anderson told Forbes that, "One of the best ways to disarm an audience is to first reveal your own vulnerability. Vulnerability is something to be treasured, not hidden from."
Have a point and stick to it
Have you ever listened to a long presentation and halfway through it you thought to yourself, "What is the point of this again?" When you begin speaking on a topic, it can be easy to go off-course if you don't have a specific point to tether yourself to or if a question from an attendee leads to another topic. Remember what your webinar or teleclass is about, write down the main point you want to make and keep yourself in check when the conversation shifts in a different direction.
Understand that it's okay to be nervous
Even the most seasoned public speakers get nervous. It's a natural human reaction and can actually work in your favor if you use that nervous energy to add excitement when delivering your talk.
What's more, while you might be thinking that your audience will walk all over you at the first sign of nervousness, you are totally mistaken. According to Chris Anderson, your audience is "dying for you to succeed."
Anderson even advises speakers to tell their audience that they are nervous. Admitting to nervousness can be a great way to connect and your audience will appreciate your honesty. So remember, don't be afraid of your audience, think of them as friends who want to see you do a good job.
Get inspired
When gearing up to do your presentation, why not garner some inspiration from influencial speakers? Watching or listening to something powerful will inspire you and the confidence and influence the speaker exudes will rub off on you. Listen to a few TED Talks or iconic speeches that changed the world to give you a boost of confidence and enlighten you.
Speak clearly
This step will likely take some practice if you are a quieter person or have a tendency to mumble, but it is essential for a successful webinar or teleclass. Think about it. If your audience can't clearly hear what you are saying, it won't be beneficial for anyone.
So, gather up some friends, family members or colleagues to present your webinar to; call someone up and run through your speech; or even practice in front of the mirror. Better yet, record yourself to gauge how you sound. Bringing the words on your paper to life by saying them aloud will also help you work around any difficult sentences or tongue twisters, removing any potential stumbles when you present it to your audience.
Avoid filler words
We are all guilty of using ums, ahhs and the word like while talking. These filler words are a vocal tick that many of us use to fill in pauses and gather our thoughts. We usually say them without even realizing we are doing so.
So, how do we eliminate these filler words from our vocabulary?
Become hyperaware of your use of these words in everyday conversation. The next time you are asked a question, pause for a couple seconds to think about the answer before you speak. It will likely feel unnatural to pause at first, which is why practice makes perfect. The more aware you are of your use of these words, the less likely you will be to use them.
If this technique isn't working for you or you just can't seem to kick the habit, ask someone for help. You can enlist the help of a friend, coworker of family member and ask them to point out how often you use filler words. Or you can record yourself presenting and play it back. Hearing how many times you throw in an um or ah will increase your awareness of how it sounds and help you move towards kicking this vocal tick.
Award-winning speaker Steven D. Cohen reminds us that, although our fast-paced society seemingly demands instant answers, "we must use the pause to our advantage. We may feel pressure to answer right away, but ultimately, we should only speak when we are ready."
Share experiences/stories
Instead of running through the facts and simply passing on information during your webinar, reveal information through storytelling. It's a proven scientific fact that humans process information better when it is presented as a story; just look at how lessons of life have been passed forward since the caveman days. It is a lot easier for people to follow and digest the information you present if you paint a picture for them.
Always keep your audience in mind
While this may seem obvious, it can sometimes be easy to forget that your audience doesn't have the same knowledge on your topic as you do. Always keep them in mind how you are presenting the information and recognize any difficult terms or jargon that may not be easy to understand.
When you use unfamiliar language, you create a barrier and distance your audience. So be aware of the terms you use. This is another great reason for presenting the information to someone you know beforehand.
Check your ego at the door
This tip can apply anywhere in your professional life. It's important in business communication and presentation not to boast or be too full of yourself.
While it is important to have an air of confidence when presenting, as it will help you manage your nerves and believe in yourself, if you come across as full of yourself, your audience will likely be offended and check out. Remember, the reason for hosting this webinar or teleclass is to engage your audience, it's all about benefiting them. So don't make it all about yourself and how great you are.
Don't take yourself too seriously
Hosting a webinar is a great way to connect with potential clients, grow your professional network and showcase your expertise on a topic. They are also meant to be fun and informative, so don't take yourself too seriously. When it all boils down to it, perfection is boring. Remember why you decided to do it and enjoy the experience of sharing information, answering questions and gaining new contacts who share similar interests.
Check out these related articles: