Day 15: Feed the Food Bank
I did this!

102
Posted on December 15, 2020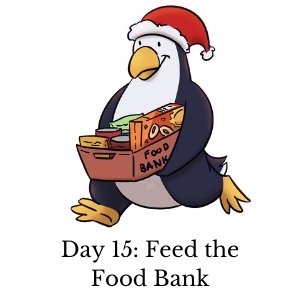 Earlier in the month, we gave to the needy and some of you reported making donations to your local food bank. We loved your generosity and have since learned that food banks are reporting significant drops in not only donations but also volunteers to run them so we want to do more. The need is even greater than ever before since the unprecendented pandemic began. 
Today, let's shift our focus to helping others by supporting your local food bank. Do a quick Google search to find a way to support them...every little bit helps!
If you're in Canada, visit Food Banks Canada.
In United States, visit Feeding America.
In Australia, visit Foodbank Australia. 
In India, visit India Food Banking Network.
In United Kingdom, visit Trussell Trust.
Please share other food bank networks in the comments below.