Day 16: Surprise a Loved One
I did this!

92
Posted on December 16, 2020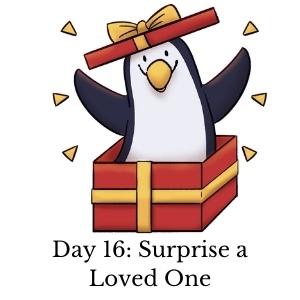 Today's Act of Kindness is to do something surprising and thoughtful for someone you love, not because it's a special day, but because they're a special person.
Your surprise could come in the form of a gift, but it could also be something special that you do, like grabbing a hot cross bun for your colleague. Or maybe you simply give your loved one a big hug and say how much you love them. Whatever you choose, remember that it's the thought that counts. The goal is to show your special someone how much you care when they least expect it.
Here are a few more ideas:
- Buy a bouquet of flowers for someone, just because. Surprise!
- Come home earlier than expected. Surprise!
- Hide a little gift under someone's pillow. Surprise!
Whatever kind hearted act you do, big or small, making it a surprise makes it that much better.
Share what you did in the comments below.