Day 4: Thank Your Postal Workers
I did this!

129
Posted on December 4, 2020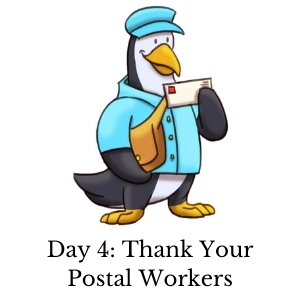 Since the start of the pandemic, online shopping has skyrocketed. Pressure on postal workers to deliver parcels and mail in a timely fashion has never been greater. For today's AoK we want you to focus your attention on someone we often take for granted - your local postal worker or delivery person.
Think about it: throughout the past year, he or she has worked tirelessly to deliver your mail, groceries, online purchases, all with a smile and asking nothing in return. So today we want you to express your thanks for all their hard work throughout the year. Simply write a short note of gratitude on a card and slip it into your mailbox where he or she will find it on their next visit. If you're feeling particularly thankful, you may even leave a small gift as well. We hear they are particularly fond of chocolate!
Share your act of kindness below - we love to hear from you!