Day 23: Let Someone Go Ahead of You
I did this!

196
Posted on December 23, 2013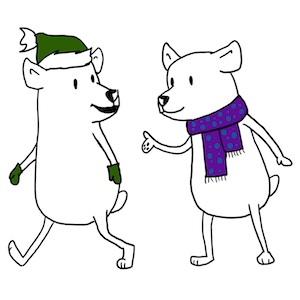 Sitting from the comfort of my cozy den the other day, I watched hundreds of reindeer run through the tundra during their annual migration. They seem to be in such a hurry but I guess I would be too if I had a chance to guide Santa's sleigh.

If you venture out into the streets and stores today and tomorrow, I bet you'll see a lot of determined humans running around like the reindeer, doing their part to help Santa. So let's do our part to help them.

Even if you are a last-minute shopper, let someone go ahead of you so their busy day is that much more pleasant. It may cost you a few minutes but you'll feel better knowing that you've helped someone drive to their destination, get through the line-up, and complete their check-list that much quicker.

It's a small gesture but in the busy-ness of the holiday, it can make a big difference. Tell us how you did in the comments below.

The AoK Polar Bear

P.S. We have the opportunity for one final push to reach our goal of 10,000 acts of kindness. I know many of you have been performing kind acts over the last few days so please go back to press the "I did this" button so we are up-to-date on the progress. And then give yourself a pat on the back for spreading the kindness. Together, we've completed over 7600 AoKs! Woohoo!