Day 14: Making Soup for the Sick/Friend
I did this!

39
Posted on December 14, 2022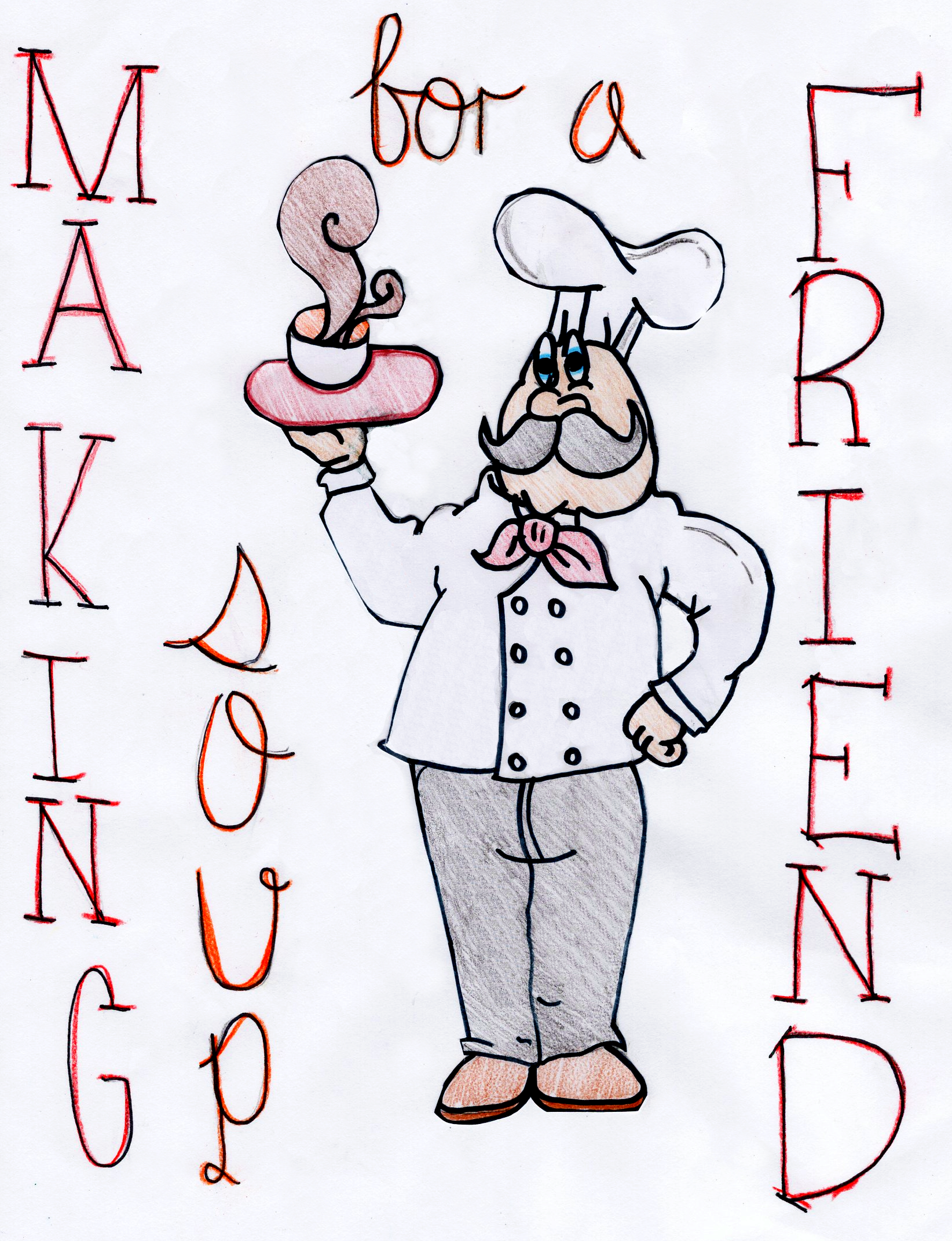 Artwork and words by London & Nyla from Mr. Duteil's & Mr. Gazel's grade 6 classes at École Glenmore Elementary.
~
Everybody wants a warm bowl of soup when you are feeling sick. Which means something nice to do for a friend in the winter is making a nice bowl of soup for them. It can be a friend or someone sick either would enjoy, especially in the winter.
If you don't know what soup they might like, make something like chicken noodle soup. Hopefully the soup made them feel warm in the stomach and made them feel good, and you will feel good that you did something nice for a friend or someone sick and hopefully someone will be nice to you.
~
Tout le monde veut un bol de soupe chaud quand vous vous sentez malade. Ce qui signifie que quelque chose de sympa à faire pour un ami en hiver est de lui préparer un bon bol de soupe. Il peut s'agir d'un ami ou d'une personne malade qui en profiterait, surtout en hiver. Si vous ne savez pas quelle soupe ils pourraient aimer, préparez quelque chose comme une soupe au poulet et aux nouilles. J'espère que la soupe les a réchauffés dans l'estomac et les a fait se sentir bonne et vous vous sentirez bien d'avoir fait quelque chose de gentil pour un ami ou quelqu'un de malade et j'espère que quelqu'un sera gentil avec vous.
~
How to make soup
If you want to complete this act of kindness but don't know how to make soup I would start by  going to the grocery store and getting all the ingredients you want for your soup the ingredients you need are 2 tablespoons unsalted butter 1 onion, diced 2 carrots, peeled and diced  celery ribs, diced 3 cloves garlic, minced 8 cups chicken stock 2 bay leaves Kosher salt freshly ground black pepper, to taste 2 ½ pounds bone-in, skinless chicken breasts 2 ½ cups wide egg noodles 2 tablespoons chopped fresh parsley leaves 2 tablespoons chopped fresh dill 1 tablespoon freshly squeezed lemon juice boil the water in a medium pot them slowly put in the ingredients. When everything is mixed together and when Vegies arn't too hard then you can put it in the bowl and enjoy some nice warm soup.
~
Si vous voulez complé cet acte de gentillesse mais que vous ne savez pas comment faire de la soupe, je commencerais par aller à épicerie et obtenir tous les ingrédients que vous voulez pour votre soupe, les ingrédients dont vous avez besoin sont 2 cuillères à soupe de beurre non salé 1 oignon, coupé en dés 2 carottes, pelées et coupées en dés côtes de céleri, coupées en dés 3 gousses d'ail, hachées 8 tasses de bouillon de poulet 2 feuilles de laurier Sel casher poivre noir fraîchement moulu, au goût 2 ½ livres de poitrines de poulet avec os et sans peau 2 ½ tasses de nouilles aux œufs larges 2 cuillères à soupe hachées feuilles de persil frais 2 cuillères à soupe d'aneth frais haché 1 cuillère à soupe de jus de citron fraîchement pressé faire bouillir l'eau dans une casserole moyenne, mettre lentement les ingrédients lorsque le tout est mélangé et quand tout n'est pas trop dur, vous pouvez le mettre dans le bol et prendre un bon bol de soupe chaud.