The Danger of the Word 'Should' and Protecting Yourself from Wackos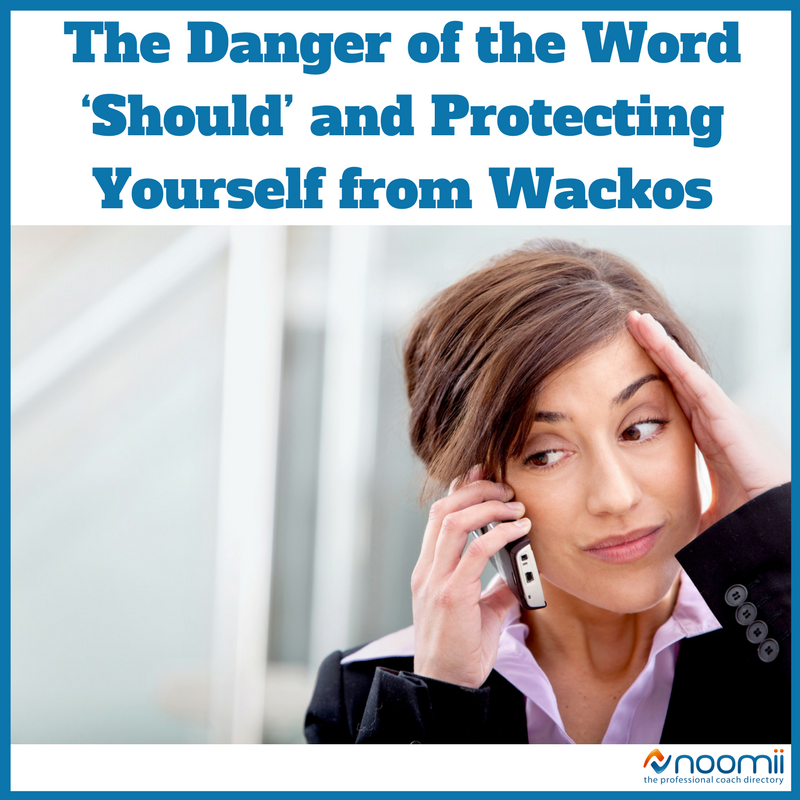 This is a guest post by Miriam Racquel Feldman. Want to contribute? Check out the 2017 publishing calendar.
As a coach, putting yourself out in the public sphere is a great source of business opportunities. Unfortunately, the public sphere brings with it the occasional wacko; an unstable individual who is not coaching material and get their kicks from throwing compassionate professionals off-kilter.
As unpleasant as an experience with an unstable person is, it hones your intuitive skills and that's great as a coach because many of us rely on those spidey senses to help our clients.
I recently received a call on my business line from a woman who claimed that she had found me on a coaching directory and was looking for a female coach. Great! I had just started advertising my services on this directory and this being my first call, I was super excited to be of service to this client.
"Sure! How can I help you?"
"Well, what I want to discuss is of a very personal nature and so I didn't feel comfortable speaking to a man, just a woman."
"Well, that's what I am, so you called the right person. What's causing you discomfort in your life that you would like to get coached on?"
And the client explained that she was in a sexual relationship with a woman and was doing things that she had never done before, that she had a rendezvous in a few hours and that she wanted to feel more comfortable.
Huh? Spidey senses up. This was not my typical client. Female, yes. Relationship issues, yes. But launching into sexual issues without having gained trust in me as a coach, never. This was a first.
Trust your instincts
Thinking back, I could have immediately said "I'm not a sex therapist; we're not an ideal fit."
But I didn't.
Instead, my mind whispered the tiny little word that hijacked and derailed my intuition. Instead, I told myself that I "should" help this woman. That word "should" - so small, yet lethal to one's intuition.
Why? Because each of us has an intuitive body sense of people and situations that communicates to us.
The word "should" silences that communication.
Why the word "should" is dangerous
In this scenario, the word "should" told me "You should keep going with this client - she needs your help." It told me, "you should be less wary and give her a chance."
And those "shoulds" shut down the intuitive sense that my body was signalling to me which was "something feels off here." Like an amoeba, my body wanted to move away from this woman, far away by disconnecting the call. Kindly, but definitely disconnect.
But I didn't. I followed the word "should" instead of listening to my body and emotional sensations that were trying to get through to me.
I stayed on with the caller. I told her a bit about my services and the methods I use for coaching. I shared how we could work together to get her intuitive messages to guide her in this relationship.
When I informed her of the price of the sessions and she responded with a chipper voice and said that 'sounds perfect," which made me more suspicious. I could feel my brows furrow and I thought, "Whoa! Who says 'that's perfect' when you drop a decent-sized price in their lap?"
But again, I heard the word 'should' and said "Ok, let's get you on the calendar."
She then asked me if she could talk to me for ten minutes right now and that's when the word 'should' dissolved and professional boundaries saved the day. I had already heard what her issue was and I had already spoken to her about the logistics of getting coached. Scheduling and payment were the next steps not providing a quick ten minute session right then and there.
Trust your instincts
I did hear the slight whisper of the word 'should' - I should listen to this poor woman - I mean she's meeting with a person in a few hours and needs my help. Compassion.
But compassion without wisdom is not kindness, it is foolishness. And foolishness is dangerous because it compromises our values, integrity and safety.
In his book 'The Gift of Fear,' Gavin de Becker emphasizes the importance of listening to our body's signals in keeping us safe from harm. He gives countless examples of how victims of attacks registered the danger they were in, yet bypassed their body's fear signal by doing the 'socially' acceptable thing. In other words listening to their mind's whisper of the word 'should.' "I should allow this stranger to carry my groceries to my apartment - he's only being nice," "I should keep this employee - he is only acting this way because of …"
With the creepy caller, I wasn't in physical danger - it was just a phone call. And yet, I allowed myself to entertain the possibility of taking on a client who gave me the heebie-jeebies and was sending signals of 'alert!' - 'do not pass go.'
I told the woman I wasn't able listen to her for 10 more minutes at this time, but would be happy to schedule a session for the following day. I asked for her email. She responded with a short 'No' and click.
I felt relief flood my body. I ran down the stairs and shared that experience with my husband and later on with a friend. In privacy, I used my somatic healing techniques to process the physical sensations that my body had used to signal its warning to me. I tapped into my intuitive wisdom to give me guidance in protecting myself in future circumstances - business and personal.
I sent off an email to the directory's customer support to give and get feedback about this experience.
Turns out the creepy caller made this same kind of call to many coaches. Obviously she is not a well person. But it was a divine opportunity for me to further notice the potential danger of the word 'should' in overriding the messages that my intuition so desperately wants me to hear.
About Miriam Racquel Feldman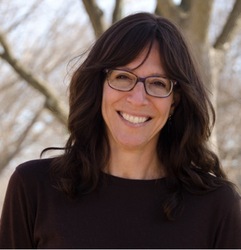 Miriam Racquel (Meryl) Feldman is a Somatic Healer, Clarity coach and writer who helps empower women with clarity, intuition and healing to live a vibrant life via their relationships, career and health. She is a certified Martha Beck and endorsed Mind-body coach passionately working with women for the better part of a decade. She lives with her wonderful husband and children in Chicago. She enjoys gardening, walking by Lake Michigan, studying Jewish mysticism, nature photography, the creative arts and helping others. To learn more about her services, visit
her website
or schedule a
complementary Clarity call
. You can also find her on
Twitter
and
Facebook
.